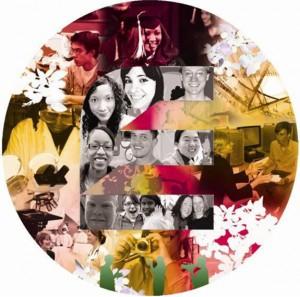 Three UCCS students recently completed a new mural to illustrate the partnership between Ent Federal Credit Union and the university.
Clarianne Medina, Colorado Springs junior, Edna Price, Colorado Springs junior, and Ashley Thompson, Fountain junior, created 10-foot-tall "CommuniCircle" with the assistance of Valerie Brodar, associate professor, Visual and Performing Arts. The mural will be unveiled and the students awarded cash prizes during an 11:30 a.m. Feb. 17 event near the Ent Service Center on the University Center's first floor. The event is open to the campus. Refreshments will be served.
"We were very impressed with what the students created and are proud to display it in our service center here at UCCS. These students collaborated well and are very talented; their creativity and artistic ability definitely shows in the final product." Liz Finn, director of operations, Ent, said.
The students designed the mural using Ent's logo and incorporated circular shapes throughout the piece. The colorful circular background embodies the various majors students can pursue at UCCS, and the contrasting "E" at the center of the mural symbolizes Ent's commitment to help students with their financial needs during school and after graduation.
–Dana Chippindale, Ent public relations specialist