Pedestrians and those on wheels will soon be separated on central campus sidewalks.
Beginning in early September, UCCS Police will begin an education campaign to redirect bicyclists and skateboarders from campus sidewalks and other paved areas. The move will improve safety after numerous complaints about pedestrians being hit or having a near miss with someone on wheels.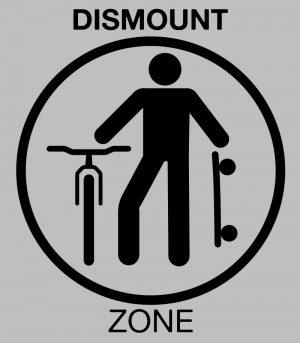 "There is a concern for safety when walkers and people on a bike or long board mix," Marc Pino, chief, Police Department, said. "That's why the Department of Public Safety took the lead on this project and met with many campus stakeholders before moving forward."
The department consulted with Facilities Services, the Dean of Students Office, Wellness Center, Campus Recreation and a campus bicycle group before amending parking polices to prohibit the use of bicycles, skateboards, in-line skates and similar devices on heavily trafficked walkways on campus.
The department did not track complaints involving wheels and pedestrians. In most cases, Pino said, faculty, staff and students shared anecdotes after an incident or near miss occurred. He did not want to wait for a serious injury occurred before taking action. During warm months, the Wellness Center can see as many as 10 people weekly injured while skateboarding on campus, he said.
Facilities Services is creating new signs. Installation will begin August 30. Initially, UCCS police officers will distribute flyers to violators and give verbal warnings. Eventually, violators will receive a ticket and be fined $20.
"As always, we depend on the campus community to assist us in enforcing laws," Pino said. "If there is an area where pedestrians and people on bikes or boards are having difficulty, we want you to call 3111."
The new policy reads:
SECTION V –REGULATIONS FOR SKATEBOARDS, IN-LINE SKATES, ROLLER SKATES, ROLLER-SKI, BICYCLES AND PEDESTRIAN TRAFFIC
Article 1 – Skateboards, In-Line Skates, Roller Skates
REGULATIONS: 1. SKATEBOARDS, IN-LINE SKATES, ROLLER-SKATES, ROLLER-SKIS: a. The use of skateboards, in-line skates, roller-skates, and roller-skis at UCCS is prohibited throughout campus parking lots, inside parking garages and buildings, and all other areas posted by signs. Violators may be issued a citation for failure to comply with regulations
Article 3 – Bicycle Regulations and Registration
MOVING REGULATIONS 4. RIDING PROHIBITED Bicyclists will use roadways, bicycle lanes and paths and other maintained ways, unless otherwise posted, and will not infringe upon landscaped areas or any other areas that are under cultivation. This includes benches, stairs, or other architectural components. Bicyclists will not ride on those sidewalks that are adjacent to streets, unless posted otherwise. Other sidewalks may be used providing that bicyclists yield right-of-way to pedestrians. Bicyclists will dismount on any sidewalk where riding is impractical due to heavy pedestrian use or other conflict.