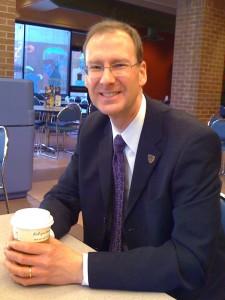 Robert Bode doesn't look like a man who's moved 1,000 miles and slept on the floor waiting for a blizzard-bound moving truck to arrive.
Instead, the new UCCS Office of Financial Aid and Student Employment director sports a freshly pressed gray pinstripe suit and a gleaming Mountain Lion athletics lapel pin. His smile hides any signs of weariness of his recent move from St. Paul, Minn., and spending nights on the floor after movers become snowbound en route to Colorado Springs.
"I'm not a runner," Bode says of his slender build. "But I believe in marathons."
Taking a pause from learning the ins and outs of a new position –minutes earlier he was reviewing time and leave reports – Bode traced the weeks since Nov. 19 when it was announced he would succeed Lee Ingalls Noble following a national search. Bode previously directed the financial aid office for Metropolitan State University in St .Paul and has a career in financial aid administration dating to 1986.
He quickly recounts the life-changing events of changing jobs and moving to a new community as all challenges that one takes in stride.
"My last day at Metro was January 19, we hit the road on the twenty-third and that Sunday the Vikings lost in the NFL playoffs," Bode said. "Which of those is a big event?"
Bode is living the campus history and setting as his family rents a university-owned home east of the campus that dates to the Cragmor Sanitarium days. It's cramped but offers an important advantage.
"When my family walks out the front door and sees this beautiful campus and the stunning space around it, it answers the question of why we moved," Bode said. "I look forward to moving into our own place this spring but am thrilled to be able to share this campus and this environment with everyone."
Bode answered four questions posed to him about his transition to UCCS.
Name some things that surprised you at UCCS?
Several things: First, just how warm, welcoming and helpful everyone has been since we've arrived, from the chancellor's welcome reception to the help we've received from Marcus, Mack and the other guys who've done such a great job getting the rental house ready for us. The welcome we've received goes well beyond "Minnesota Nice." Second, the weather – for someone coming from Minnesota, this feels like Spring, not late January and early February. Finally, the quality of the facilities here – the university has invested significantly in maintaining and improving the campus facilities, and I think that's a big recruiting advantage over schools that are continuing to defer major maintenance on their campuses.
Is there an advantage to living so close to campus?
Not having to pay for parking, at least for now! I think the biggest advantage is that during this transition from Minnesota my children can walk down the street and see where I am working, visit me in my office, and can have a connection to my workplace. I'm not just walking out the door and disappearing for 8-9 hours a day, but they can wave to me as they go by the office, and they get to experience first-hand the dynamic campus environment.
Do you have changes in mind for the Office of Financial Aid?
Within the month we will begin to deploy an entirely new financial aid management system for the 2010-2011 school year. Converting systems will drive many changes in how we deliver service to students. Part of my charge is to look for ways to exploit the new system's capabilities to streamline our processes and to promote the self-service functionality of the system. Bringing on a new system is also a great time to ask whether some of our long standing practices are still necessary or whether they are creating obstacles for students in completing our financial aid applications. The staff will be looking at all of these practices as a team to see how we can continue to improve the student experience with our office.
What do you think you'll miss about Minnesota?
Certainly not 20 degree below zero days and ice storms! We will (and do) miss our church family and our friends, and I worked with a very supportive group of financial aid administrators across Minnesota. Even so, I am looking forward to the new opportunities here to build on the good work that has already been done to make the financial aid office one that enhances the student experience at UCCS.
Photo by Tom Hutton