Chancellor Venkat Reddy delivered his first major public address to more than 200 community leaders Aug. 7, firmly planting the university's future on academic excellence.
Speaking at an event sponsored by Colorado Springs Chamber of Commerce at the Antler's Hotel, Reddy outlined his vision for the university before turning over the microphone for updates on specific projects including the UCCS Ent Center for the Arts, cybersecurity initiative and the Quad Innovation Program.
"We will become an outcome-oriented, dynamic, agile campus able to effectively respond to emerging trends, challenges and opportunities and stakeholder needs," Reddy said. "We are, and will remain – first and foremost — a university. We will continue to level the playing field so that all students can succeed."
Reddy outlined areas of focus as
Academic excellence which he defined as stellar classroom instruction, cutting-edge research, service to the campus and community and co-curricular activities in the classroom and on campus.
Access to higher education and building the future workforce. Reddy shared that two-thirds of UCCS students receive financial aid, one-third are low-income and one-third are the first in their families to attend college. He reminded the audience of the impact a college degree can make on a family before encouraging scholarship donations, internships or part-time jobs.
"Please know that our students today are your future employees, future entrepreneurs and leaders in our community," Reddy said.
Innovative and relevant programs. As examples, Reddy cited online classes, evening classes, holiday break courses and hybrid online/in-person courses that enable students to both work and pursue degrees.
Alumni and community engagement. Examples cited included sports, health and wellness, arts, sustainability and cybersecurity.
"We are a campus that, from the start, has succeeded on the strength of Colorado Springs and the strength of our ties in the community. Where Colorado Springs succeeds, so do we," Reddy said.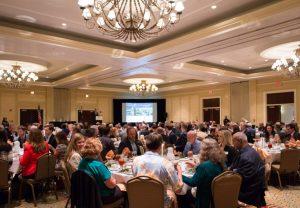 Other speakers at the event included Sally Hybl, fundraising co-chair for the UCCS Ent Center for the Arts, and Drew Martorella, executive director, UCCS Presents. Hybl and Martorella outlined plans for the five-venue silver building at Pulpit Rock's base and emphasized the community partnerships that made it possible. The Ent Center will open in January 2018.
Martin Wood, senior vice chancellor, University Advancement, and Jen Furda, chief operating officer, National Cybersecurity Center, updated the cybersecurity initiative including a Cyber Research, Education and Training Center that will conduct research and educate workers in the cybersecurity field.
Lance Bolton, president, Pikes Peak Community College, and Jacob Eichengreen, executive director, Quad Innovation Program, explained the partnership between UCCS, Pikes Peak Community College, United States Air Force Academy and Colorado College to find ways to integrate graduates into the local workforce.
Stephannie Finley, executive director, University Advocacy and Partnerships, served as the event's master of ceremonies.
Related Posts
— Video by Media Services
— Photo by Savannah Waggoner