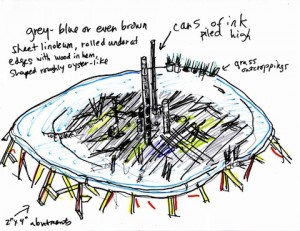 Two new exhibitions will soon open at the Gallery of Contemporary Art on campus, GOCA 1420, as well as the gallery's downtown location, GOCA121 at 121 S. Tejon.
"Rupture" will open at GOCA1420 with a 5 p.m. public reception Jan. 27. Regular gallery hours are 12-6 p.m., Tuesday through Friday. "Rupture" features new installation work incorporating sound and performance from Kyle Bravo, Jenny LeBlanc and Claire Rau. Each piece will take on a discussion of the relationship between man and nature in terms of physical pressure on a surface, via the spew of elements from a volcano, floating smut of oil, and expelling substances out of the body. "Rupture" will trace its activity through accumulation and stains, using a variety of additive processes to incite both humor and revulsion while reflecting upon uncontrollable forces.
All three artists are part of the artist-run collective, The Front, fostering development of contemporary art in New Orleans through exhibitions and community-based projects.
During the semester break, GOCA 1420 received a new ceiling to aid with acoustics, new lighting and a remodeled lobby.
"Breaking the Sound Barrier: Sonic Art 1860-2011" will open at GOCA 121 with a 6 p.m. Feb. 4 public reception. Regular gallery hours are 10 a.m.-8 p.m., Monday through Friday. "Breaking the Sound Barrier" is an anthology of the art of sound from the first audio recording of the French folk song Au Clair de la Lune by Édouard-LéonEndFragment Scott de Martinville to work completed yesterday. Sound art has been firmly situated as part of a hybrid visual art practice which in part focuses on expanding and engaging the non-visual aspects of perception. Curated by Valerie Brodar, associate professor, Visual and Performing Arts, "Breaking the Sound Barrier" investigates the dimensions of sound through silence, noise, ambient textures, ideas, stories and places. Featuring listening stations and installation, the exhibit will introduce visitors to the acoustic realms of contemporary art.
Artists featured include: Terry Allen, Jacki Apple, Charles Amirkhanian, Paul Bright, Adan De La Garza, Jim Green, Richard Lerman, Lou Mallozzi, David Moss, Senga Nengudi, Matt Pass, Helen Thorington, and Improv Everywhere.
For more information on the exhibit and artists, visit http://www.uccs.edu/~goca/ART.html or contact Caitlin Green or Daisy McConnell, co-directors, Gallery of Contemporary Art, 255-3504.