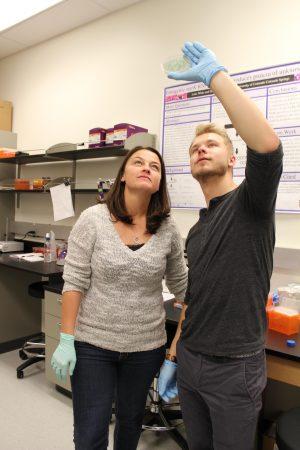 When Lukas Kaugars came to UCCS as a student in 2012, he had zero interest in cell biology.
After enrolling in a cell biology class taught by by Meghan Lybecker, assistant professor, Biology Department, he found himself looking forward to going to class. By the time the semester was finished, he was hooked. Kaugars is a biology major and plans to attend medical school after graduation in May.
Not only did Lybecker inspire Kaugars' interest in the field, she also agreed to become a faculty mentor to him through the UCCS Undergraduate Research Academy.
The Undergraduate Research Academy, started in 2013, provides a mutually beneficial experience for students and faculty. Students are paid as they engage in experiential research within their chosen field, gaining valuable experience in data collection, analysis and presenting in professional forums. At the same time, faculty members' research programs are advanced by the work of student research assistants.
Lybecker and Kaugars were awarded $2,500 from the academy to support their research, "The Role of Small Non-coding RNA in the Pathogenesis of Lyme Disease," for the 2016-2017 academic year. Though the grant allows for an honorarium to be paid to the faculty member, Lybecker chose to allocate 100 percent of the grant to support Kaugars' time in the lab as a paid researcher.
"Most faculty mentors choose to put the entire award towards paying their mentees and allowing them more time to complete their research," said Eugenia Olesnicky Killian, assistant professor, Biology Department, and academy director.
Undergraduate Research Academy 2017 summer research program award winners

Department of Biology
Mentor: Jeremy Bono
Student: Abigail Frier

Mentor: Jeremy Bono
Student: Alexis Ryan

Department of Geography and Environmental Studies
Mentor: Cerian Gibbes
Student: Austin Hawley

Mentor: Cerian Gibbes
Student: Caitlin Parsons

Department of Electrical Engineering
Mentor: Gregory Plett
Student: Josh Minnetti

Mentor: Scott Trimboli
Student: Aaron Pauls

Department of Psychology
Mentor: Kristin Samuelson
Student: Frank Gourley

Mentor: Elizabeth Daniels
Student: Katie Shirran

Department of Physics
Mentor: Anatoliy Pinchuk
Student: Nicholas Jenkins

Department of English
Mentor: Michelle Neely
Student: Jessica Valvo

Department of Mathematics
Mentor: Sarbarish Chakravarty
Student: Tristan Neighbors
Students' experience with research can be invaluable.
"I am grateful for Dr. Lybecker's investment in me," Kaugars said. "She has introduced me to her colleagues in the field and opened doors to opportunities I would have not have had on my own. The financial assistance provided by the URA has allowed me to dedicate more time to scientific research. I have gained knowledge that will help me become a more well-rounded physician and help people to lead healthy lives."
Being involved with undergraduate research, students go beyond what they learn in the classroom and deepen their knowledge through critical analysis. They can present their work at professional conferences and build a strong and competitive resume in preparation for graduate school. And  participation in the URA almost always comes with the opportunity to build a lifelong relationship with a mentor in their field.
"Successful mentorship in scientific research is vital to career success for both the mentee and mentor," Lybecker said. "The mentor-mentee relationships we form persist throughout our careers, providing professional experiences to draw from, including networks of colleagues and collaborators, scientific advice and career development."
Lybecker and Kaugars are working to find the targets of a specific non-coding RNA to expose how it is involved in the pathogenesis of Lyme Disease. The two, along with the rest of Lybecker's research team, will present to the Centers for Disease Control and Prevention, Fort Collins, April 7. Kaugars credits the URA and his mentor with the opportunity to present to such a prestigious audience and to make connections in the field.
Mentor/mentee relationships are essential in setting the stage for a successful career, Lybecker said.
"Research mentors become intellectually and emotionally invested in the success of their students, not only in their research projects here at UCCS but in their success in their academic and career endeavors. These mentoring relationships last a lifetime," she said.
Staff, faculty and undergraduate students interested in participating in a research the fall are invited to review deadlines requirements on the Undergraduate Research Academy site.
To learn more about the Undergraduate Research Academy, contact Ali LaForce (719) 255-3057 or Eugenia Olesnicky Killian (719) 255-3527.