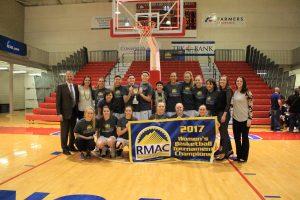 UCCS' women's basketball team won the Rocky Mountain Athletic Conference tournament championship for the first time in program history last week, then clinched the No. 3 seed for the NCAA Division II tournament, which begins March 10.
Lynn Plett, UCCS women's basketball head coach, told team members that he would shave his beard if they won the RMAC championship. After Saturday night's victory, he was clean-shaven during Sunday's selection video on the women's basketball Facebook page.
During the regular season, the UCCS team went 23-8 and tied for second in conference standings. The Mountain Lions went from eighth in the Feb. 22 ranking to No. 3 seed at the selection party; this is the third consecutive season the women have qualified for the NCAA tournament.
UCCS will play No. 6 seed Eastern New Mexico in the first round of the NCAA tournament – Eastern New Mexico's first appearance in the tournament. The team was 20-8 in the regular season.  The two teams have met twice in program history, with the Mountain Lions wining the last game 62-59 in 2014.
See the tournament schedule here: http://gomountainlions.com/schedule.aspx?path=wbball