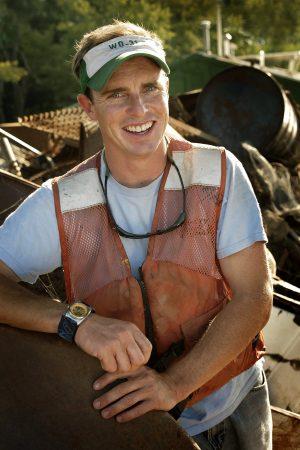 The theme of the fifth annual UCCS Sustainnovate Conference and Expo, March 7-8, will be "Water in the West" and it will kick off with a student summit and presentation featuring Chad Pregracke, 2013 CNN Hero of the Year and author of "From the Bottom Up: One Man's Crusade to Clean America's Rivers."
Sustainnovate will begin at 5:30 p.m. March 7 in Berger Hall with the student summit. Pregracke's presentation, open to staff, faculty and the public, will be 7 -8:30 p.m.
Pregracke is recognized for launching, at age 23, an effort to clean up the Mississippi River that  turned into a movement involving thousands of volunteers cleaning up millions of pounds of garbage from America's rivers, according to the UCCS Office of Sustainability, which sponsors Sustainnovate.
Sustainnovate continues at 9:30 a.m. March 8 in Berger Hall with keynote speakers Nolan Doesken, climatologist, Colorado State University, and Taryn Finnessey, senior climate change specialist, Colorado Water Conservation Board. Their address, "Climate and Colorado's Water Future" starts at 10:15 a.m.
Breakout sessions will address topics such as the Dakota Access Pipeline and Colorado's plans to address the effect of population growth on climate change.

Lunch will be provided by UCCS Food Next Door from 12:30 p.m.-2 p.m. Register here.
Other events include a Sustainabrew Hoppy Hour and local whiskey tasting from 5-6:30 p.m. March 8 followed by a presentation from professional snowboarder Jake Black, Protect Our Winters Riders Alliance, beginning at 7 p.m. POW is group of professional winter athletes who work to educate students about climate change and connections between fossil fuels, global warming, and reduced snowpack. The group also highlights what ski areas are doing to reduce energy and use renewables for power.
Sustainnovate was launched by the Office of Sustainability in 2013 to educate and engage students, staff, faculty and the local community in raising awareness and driving action toward environmental accountability. Each year features a different theme. In its first year, general sustainability was the focus. Subsequent events examined natural food resources and production, climate change and sustainable mobility.  
Linda Kogan, UCCS sustainability director, says the event connects like-minded individuals, opens doors to student internships and fosters collaborative action toward change. Kogan hopes that participants come away from the event "with something concrete that they are inspired to do with regard to increasing sustainability."
A full agenda for Sustainnovate: Water in the West can be found here.
Students can RSVP for Chad Pregracke's student summit on March 7 here.
Students, staff, faculty and community members can register for lunch and breakout sessions here.