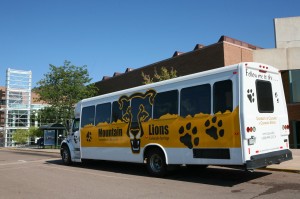 Beginning with the spring semester, an additional parking shuttle bus between main campus and the Four Diamond Sports Complex near North Nevada Avenue will be added.
Jim Spice, executive director, Public Safety, said the additional bus will bring the total to three that operate between free university parking lots near Four Diamonds and main campus. The additional capacity will mean riders will wait five to fifteen minutes between shuttles, an improvement over current service levels.
The third bus will be added during peak periods, 8:40 a.m. to 4:40 p.m. Monday through Thursday.
The change is being made as result of a Cragmor neighborhood church's decision to no longer allow free parking in its lot. In addition to paid permit parking close to campus buildings, free parking is available at Four Diamonds along with a free ride to main campus.
For more information about parking options and to view a new, substantially changed, shuttle schedule, visit http://www.uccs.edu/pusafety/transportation.