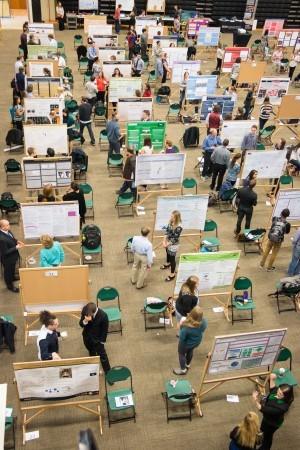 The 9th annual Mountain Lion Research Day will move to the fall semester to avoid scheduling conflicts.
Previously, Mountain Lion Research Day and the Colorado Springs Undergraduate Research Forum were typically scheduled the same week. Participants suggested separating the two events and providing presentation opportunities in both the spring and the fall semesters. Mountain Lion Research Day will now be 2 p.m. to 5 p.m.  Dec. 1  in Gallogly Events Center.
Mountain Lion Research Day is an opportunity for students, staff and faculty to formally present scholarly work to peers and experts across multiple disciplines.  Last year's event featured 118 exhibits submitted by students, staff and faculty in areas such as biology, communication, physics and business.
The event provides an opportunity for both undergraduate and graduate students to work with faculty and staff to gain experience presenting academic research to peers and colleagues. Research experience allows students to conceptualize information they are learning in the classroom and to dive more deeply into course material.
"Participating in academic research sets students apart when beginning the job search and can initiate a passion for their field of study," said Kelli Klebe, associate vice chancellor for research and faculty development, Academic Affairs. "Mountain Lion Research Day is an opportunity for people to get a sense of what people are doing on our campus, what they are studying. It's a chance to engage students and help them to understand the discipline while connecting them to the research community."
Mountain Lion Research Day supports multiple 2012- 2020 strategic goals. UCCS has committed to developing an environment that sustains and extends quality research, scholarship and creative work while also engaging students, staff, and community in work that directly supports the goals of the university.
There are several opportunities for students to present research throughout the academic year.
The Graduate School will host the Graduate Student Research Showcase May 3 in the Gallogly Events Center. The Colorado Springs Undergraduate Research Forum, will take place at the Air Force Academy on April 15.  Students enrolled in the UCCS Undergraduate Research Academy are required to present at either CSURF or Mountain Lion Research Day.
Contact Ali Laforce, executive assistant, Research Office, oor@uccs.edu, 719-255-3057 for more information.
To learn more about Mountain Lion Research Day or view 2014-2016 abstracts, click here.