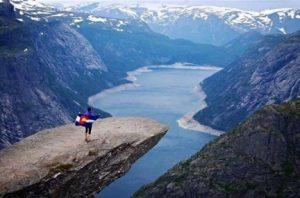 UCCS is joining forces with the Institute of International Education in the Generation Study Abroad program to double the number of UCCS students who study internationally by 2020.
Eighty UCCS students studied internationally last year. To meet the Generation Study Abroad goal, UCCS would need to have 160 students participating by 2020.
Mandy Hansen, director, UCCS Global Engagement Office, estimates 120 students will be studying in Germany, Japan, France, Mexico, New Zealand, Austria, Spain, and the United Kingdom in the 2016-2017 academic year. She said she is confident UCCS will surpass the 2020 goal.
Taking part in the Generation Study Abroad initiative opens the door to additional scholarships and grants for UCCS students. Funded by government agencies, foundations, and national corporations, the institute provides partnering universities with additional funds for students to study abroad.
Hansen said she is excited about how the partnership will strengthen the study abroad program for UCCS.
"This demonstrates, on a national level, that UCCS is committed to helping our students gain international and global experience," she said.
GEO has already taken steps to increase involvement by hiring Elizabeth Brondyke, senior education abroad advisor, has been marketing the study abroad program on campus. Brondyke engages students in classroom presentations, attends campus recruitment events and holds weekly information sessions.  "There is a study abroad program that fits every student's needs," Brondyke said.
"In addition to traditional semester or one-year plans, we have programs that can be completed over spring break, summer, even in two weeks," she said.
"Globalization has changed the way the world works, and employers are increasingly looking for workers who have international skills and expertise," said Allan Goodman, president of the institute. "Studying abroad must be viewed as an essential component of a college degree and critical to preparing future leaders."
The initiative aligns with the UCCS 2012-2020 strategic plan goal to "substantially increase international and domestic multicultural program opportunities and the number of international students and scholars on campus to build cultural understanding and to develop the global competencies of the UCCS community."
The Institute of International Education, founded in 1919, works with more than 1,200 institutions to design and implement programs of study worldwide.
The Global Engagement Office wants to communicate to students that international study isn't as challenging as they might imagine. Brondyke leads Education Abroad 101 in Copper House, Summit Village every week. During these sessions, students are provided with answers to questions about the application process, costs, locations, coursework, and travel information.
Staff and faculty who would like to participate in study abroad or that have international colleagues at universities that might be interested in an exchange program are encouraged to contact Hansen at 255-7528 or mhansen2@uccs.edu or Brondyke at 255-3618 or ebrondyk@uccs.edu.
– Photo by Lisa Corbett