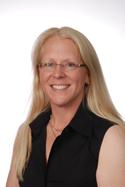 A UCCS faculty member will work with campus and community leaders in an effort to reduce domestic violence among students at both UCCS and Pikes Peak Community College.
Katie Kaukinen, associate professor, School of Public Affairs, will be the principal investigator of a $499,645 grant from the U.S. Department of Justice to develop programs that protect students from victimization and build healthy relationships.
"We envision a broad-based team of professionals at both colleges and within the Colorado Springs community to connect with students where they are in their lives," Kaukinen explained. "Both genders will be involved as we try to teach fundamentals such as anger management and healthy relationships as well as how to recognize when intervention is necessary."
Kaukinen envisions a team of experts in fields ranging from psychology, nursing, law enforcement and student life at both PPCC and UCCS joining together in early 2011 to develop programming that meets the needs of the student bodies at both campuses. The programs will go into place by fall 2011.
For example, Kaukinen envisions different presentations for traditional-age college students that focus on issues such as dating violence, sexual assault and healthy intimate relationships. In contrast, non-traditional age college students might receive information on recognizing spouse or domestic partner violence and how to cope with it, including what community resources are available.
But Kaukinen is quick to emphasize her goal is not only to prevent crime but to give students counsel about how to prevent problems, a message that is directed at both men and women.
"For a younger student, we might want to talk about how to handle breaking up a dating relationship with someone who lives in the same dorm and you're going to see regularly," Kaukinen said. "That kind of thing is going to happen and we need to prepare young people with how to deal with it. Or, maybe we'll talk about what constitutes stalking and have a discussion about controlling behaviors."
While still in the planning stages, Kaukinen envisions presentations for all new UCCS freshmen and transfer students, training students for careers as victim advocates, teaching students to look out for each other, and improving understanding of what constitutes stalking.
"I foresee opportunities for graduate students in psychology, criminal justice or other related programs to complete internships with TESSA and to have true professional experiences that could lead to careers," Kaukinen said. "At the same time, I hope to create an environment where we teach students to recognize signs of dating and intimate partner violence and create a culture where they can help a roommate or classmate to get assistance."
Kaukinen foresees working with both PPCC and UCCS campus police officers to teach them how to help sexual assault victims and specific procedures about conducting domestic violence investigations including response to trauma, procedures for evidence gathering, and knowing resources available on- and off-campus.
"I'm excited about working with colleagues and recognized experts from across the UCCS campus, at Pikes Peak Community College, and in our community," Kaukinen said. "Domestic violence knows no boundaries. Neither should we."