Tucked in a corner of the industrial kitchen at Roaring Fork Dining Hall, two students move briskly, shaping apple fritters, dropping dozens of doughnuts in the deep fryer, adding icing and toppings to dozens more on a separate countertop.
By the time the sun rises, racks of doughnuts are ready for pick up, headed for sale at three UCCS coffee shops.
Doughnuts are a new line of business for Dining and Hospitality Services. After buying equipment and supplies, setting up the kitchen and hiring two students – Albert Saavedra and Naja Allen – fresh doughnuts started rolling out of the kitchen in January.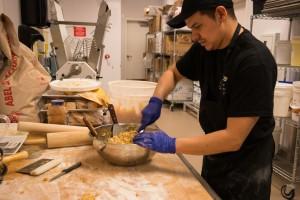 Right now, the two-person team makes six dozen raised glazed doughnuts, 12 dozen cake doughnuts and three dozen apple fritters every morning, four days a week. They're delivered to coffee shops in University Center, Dwire Hall and Columbine Hall, Mondays through Thursdays.
Saavedra arrives at Roaring Fork around 4:30 a.m., Allen by 5 a.m.
"We're a very efficient kitchen here," Saavedra, a sociology student, says as he molds mounds of apple fritter dough. He worked in a bakery before transferring to UCCS and likes the work – especially because it's early in the day, he says. Allen applied for a job in food service and landed the doughnut gig.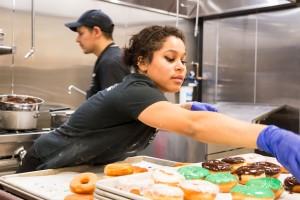 "My friends are always like 'bring us doughnuts!'" says Allen, who lives on campus and leaves for class after the kitchen is cleaned up.
Before launching the doughnut operation in January, anyone on campus who wanted doughnuts had to order them from elsewhere, or Dining and Hospitality Services would order frozen ones, said Russell Saunkeah, executive chef and associate director for culinary operations, Dining and Hospitality Services.
As the university transitioned its food service from a contracted provider to an internal operation, the idea of doughnuts came up. Not everyone was in favor, though the debate was largely in fun, Saunkeah said. For a food service focused on innovative, nutritional and sustainable dining services, doughnuts weren't an easy sell to everyone. Ultimately, the doughnut lobby prevailed. Aside from providing a sweet, freshly made treat for the coffee shops, the doughnut operation employs two students.  And it's expected to grow. Saunkeah plans to add jelly-filled, cream-filled and larger cake doughnuts and ramp up production.
"I'm very pleased," Saunkeah said. "I'm pleased we have these students who are really dedicated to this project. As a chef, it's very comforting to have students you can count on. And I'm happy that we've been able to provide this service. We've never had fresh doughnuts at UCCS."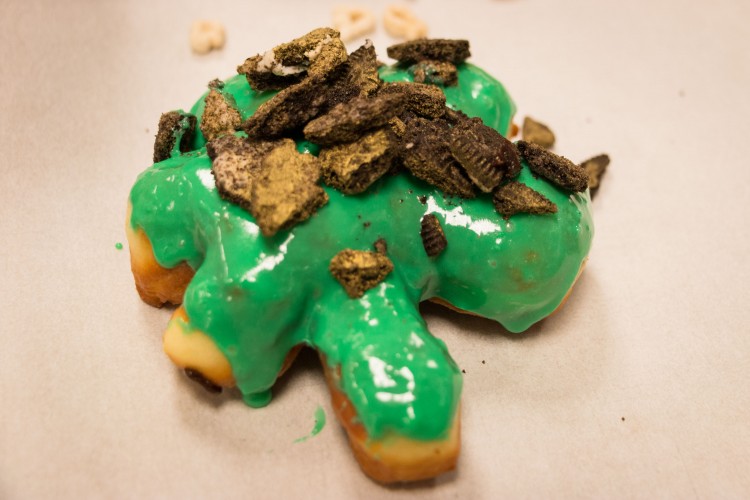 — Photos and video by Joanna Bean
— Editing by Jeffrey M Foster