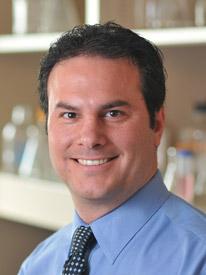 A professor of pharmaceutical sciences at CU Denver will explain his breast cancer research in a UCCS Department of Chemistry and Biochemistry Colloquium Oct. 26.
Daniel LaBarbera, assistant professor, Pharmaceutical Sciences, will speak at 1:40 p.m. Oct. 26 in Centennial Hall Room 106, about his work to prevent the metastasis of cancer cells in breast cancer patients. Despite improvements in therapies developed for the treatment of cancer, patient prognosis and mortality rates have improved minimally, LaBarbera said. Metastasis, or the spread of cancer to other parts of the body, remains the primary cause of cancer mortality statewide.
The lecture is open to all members of the campus but will likely be of the most interest to biology, chemistry and nursing faculty and students familiar with the terminology LaBarbera will use, according to Al Schoffstall, professor, Chemistry, and colloquium organizer.
To attend, contact Schoffstall at 255-3163 or amschoff@uccs.edu.