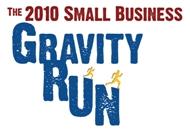 The Small Business Development Center at UCCS will host a 5K/10K fun run, the first Small Business Gravity run, Oct. 30.
Event proceeds will benefit the SBDC, a nonprofit organization dedicated to supporting small business in El Paso and Teller counties through free counseling and low-cost training workshops. The SBDC is located on campus and is a division of the College of Business.
Dubbed the Gravity Run because the course goes down Austin Bluffs Parkway, the race begins at 9 a.m. at the SBDC Building on the UCCS campus and ends at the Mr. Biggs Event Center, 5825 Mark Dabling Blvd. Racers are encouraged to wear Halloween costumes.
Registration is $25 per racer, or $70 for teams of three. Online registration closes at 10 p.m. Oct. 27.
UCCS faculty, staff and students may register by calling 255-3844.
More details are available on the SBDC website.