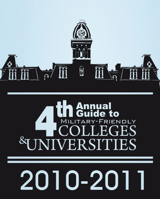 UCCS is one of the nation's top military-friendly colleges and universities, according to the editors of "Military Advanced Education," a monthly magazine directed at active duty members of the armed forces.
The December 2010 issue of "Military Advanced Education" will feature the publication's fourth annual guide to colleges and universities, according to Glenn Berlin, associate publisher. Included will be those colleges and universities the magazine determines best serve military service members, veterans, spouses and dependents.
"On behalf of everyone at KMI Media Group, let me congratulate you and the entire staff at the University of Colorado at Colorado Springs for the inspired effort you put into making it easier for our men and women in uniform to advance their careers by enhancing their educations," Berlin wrote to UCCS officials this week.
This is the second year that UCCS was selected as a top military-friendly university by the magazine.
For more information about "Military Advanced Education" or KMI Media, visit http://www.military-advanced-education.com/military-advanced-education/
For information about UCCS efforts to assist the military, contact Dana Rocha, director, Veteran and Military Student Affairs, 255-4662.