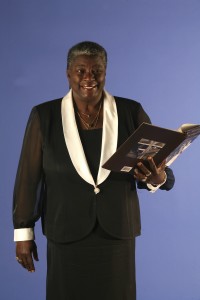 A recently completed $500,000 private fundraising campaign will ensure a legacy of literacy established by Barbara Swaby, professor, Education, continues in perpetuity.
CU Foundation officials announced the milestone of creating the first endowed professorship in the College of Education in September. The endowment ensures Swaby's 33-year legacy of preparing elementary school teachers to teach literacy, providing one-on-one tutoring of local youth, and leading community reading clinics continues.
"We know that no one will ever replace Barbara Swaby," Chancellor Pam Shockley-Zalabak said. "But by naming a professorship after her, we honor her commitment and provide funding to ensure that the person who holds the position is of the highest possible caliber."
An endowed professorship allows investment proceeds from the endowment to become a supplement to a normal faculty salary. This funding allows UCCS to attract applicants who are leaders in their fields to the campus and continues in perpetuity because the principle is not spent.
As an ambassador for childhood literacy, Swaby works to remove obstacles so thousands of children can become literate members of society. She fuels programs such as free community reading evaluations, community reading clinics, and a Learning Literacy On the Go project that generated 91,000 books for donation to low-income children in the Pikes Peak region.
Swaby inspires thousands of UCCS graduate and undergraduate students as well as educators who attend professional development workshops. Swaby shares her passion, as well as techniques, to teach reading to children often labeled as un-teachable.
Donors from throughout the greater Colorado Springs community, including Swaby herself, contributed to the campaign to ensure that the programs she spearheaded continue.
"The final thing I say to my students is my responsibility on this earth is to share what has been gifted to me," Swaby said. "What you have is a trust to you. It does not belong to you. You cannot keep it."
Swaby grew up in the West Indies in circumstances that rarely lead to university professorships. She credits her parents for her success and Shockley-Zalabak for helping her achieve a position of prominence within the university and the community.
Despite the so-called "new literacies" that have currently taken root among young people, the number of people unable to capitalize on the fundamental forms of literacy is increasing.
"The things we do now and call literacy, I don't believe they will ever be out of date," Swaby said. "When we teach children to read, and particularly when we teach children who have little or no probability of upward mobility to read, we don't just give them a living. We give them a life."
Throughout the campus and greater Colorado Springs communities, Swaby sees teachers holding their heads high in a profession that has been "battered, kicked, and whipped." These teachers are making decisions that are based not on compensation but on the development of the future. She has supported the endowment that will bear her name because of her desire to say, "That which I do is maximally important to me. When I am dead and gone and forgotten from the face of the earth, I would like to believe that something I have left behind is still of benefit to the children on this earth."
While the fundraising campaign for the professorship is complete, efforts to support free reading clinics, individual reading evaluations and books for low-income children continue. For more information, contact Jaime McMullen-Garcia, 255-5105 or Jaime.Garcia@cufund.org