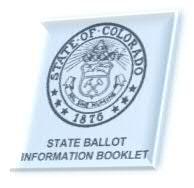 UCCS faculty and staff should read their state-issued voter's Blue Book carefully for a fair and honest assessment of the key issues on the November ballot and then cast ballots, Kirsten Castleman, senior director, State Relations, CU System, said Wednesday.
"You should be receiving this in your mailbox at home very soon," Castleman said waiving her personal copy of the 8.5-inch by 11 inch booklet printed on newsprint in both English and Spanish in the air. "There is nothing partisan or misleading in this document. You can truly trust the information in the Blue Book as the basis for making an informed decision."
Prepared by staff members in the Office of Legislative Council, the Blue Book provides voters with text, title and a fair and impartial analysis of each constitutional amendment, law or question on the ballot. All registered voters should receive a copy in the mail. The Blue Book is available online. Spanish, English and audio versions are available.
Castleman leaned heavily on information in the Blue Book to explain what's ahead to a small group meeting over the lunch hour. She also provide pro and con arguments from groups that have taken positions on three key initiatives affecting CU.
"Amendments are changes to the state constitution that require a two-thirds vote of the General Assembly to make it on the ballot, or that can come forward as a citizen-initiated ballot measure," Castleman said. "Though changing the constitution in Colorado is easier than in a lot of states, it's still a big deal with long-range effects. A proposition, on the other hand, is a change to state statute that legislators have the ability to change with a majority vote and approval of the governor."
Castleman touched briefly on Amendments P, Q, R, 62 and Proposition 102 but focused on Amendment 60, Amendment 61, and Proposition 101 because they have the biggest potential to affect the university.
As employees, faculty and staff are not allowed to use university resources to campaign for or against ballot initiatives or for individual candidates, Castleman said. However, the elected members of the CU Board of Regents are allowed to take positions and recently voted 7-2 to oppose Amendment 60 and 61 and Proposition 101. See the resolution PDF.
While prohibited at work, Castleman encouraged faculty and staff to use evenings, weekends and personal computers to study the issues, to discuss them widely, and to vote on Nov. 2.
A summary of the bills, provided by the Bell Policy Center, Denver, follows.
Amendment 60 amends the state constitution to cut property taxes for schools in half by 2020, repeal all elections that allowed local governments to retain property taxes above TABOR limits; require future retention votes to expire after four years; require future votes to increase property taxes to expire after 10 years; require that the state backfill for reduced property tax revenues; require public enterprises and authorities to pay property taxes; require local governments to cut property taxes to offset these new revenues; and reset local TABOR limits to lower levels.
Amendment 61 amends the state constitution to ban all borrowing by the state; lowers caps on local borrowing 60 percent or more; limit local borrowing to 10 years; require voter approval of borrowing; and require taxes be cut when borrowing is paid off.
Proposition 101 changes state law to reduce income taxes from 4.63 percent to 3.5 percent over time; slash taxes and fees on vehicles; exempt leased and rented vehicles from sales tax; exempt first $10,000 of vehicle purchases from sales tax; eliminate fees on telecommunications except 911; set a lower state TABOR revenue limit; and require voter approval of fees on vehicles and telecommunications.