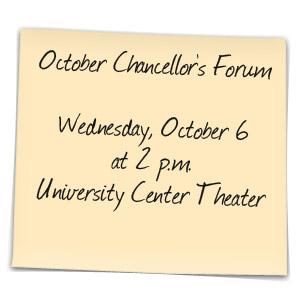 Jerry Wilson, executive director, Information Technology, will explain the newest tool to expand the university's reach during the October Chancellor's Forum scheduled for 2 p.m. Oct. 6 in the University Center Theater.
Wilson will provide an overview of the CISCO Telepresence System which allows course delivery on 65-inch high-definition monitors with clear, instant audio and video connections to remote locations. Currently, the Beth-El College of Nursing and Health Sciences is using the system to deliver nursing courses at Otero Community College and the College of Engineering and Applied Science is using the system to deliver a robotics course to students at Trinidad State Junior College.
Wilson also plans brief updates on projects such as Voice over Internet Protocol to replace campus telephone lines, Blackboard course software, Ingenuix web content management software, and operational changes for the IT Help Desk.
Chancellor Pam Shockley-Zalabak will also provide a brief update on the university's budget.