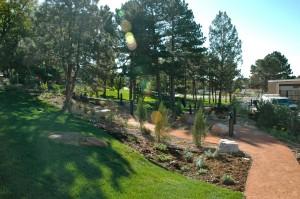 The newest space at UCCS is neither traditional classroom, student housing nor athletic venue.
Instead, the 170-by-50 foot area behind Centennial Hall offers a quiet getaway, an outdoor classroom or a shortcut to the parking lot — it all depends on your perspective.
"Our vision was to create a walk in the park," Gary Reynolds, executive director, Facilities Services, said of the new space.
The vision of a design team of Matthew Evans of Lime Green Design, Doug Reisbeck of AMD Architects, Reynolds and Stan Rovira, project manager, Facilities Services, was accomplished this week. A rock-lined amphitheater attracted a noon-time lunch crowd as well as onlookers curious about the plants thriving in the new xeriscape demonstration garden. Signs are on order and will identify species to make shopping for at-home plants easier.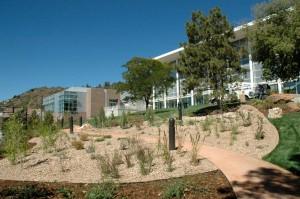 The crushed stone paths were created with an eye toward access. The paths are wide enough for a wheelchair user to reach the amphitheater and the finely ground stone specially selected to make rolling easier.
Crews installed exterior lights and walkway bollard lights this week as part of final details. Soon, an antenna will be installed on Centennial Hall's roof to provide wireless Internet access to the area.
Identifying the plants is part of a secondary mission of the space. While seemingly placed only for beauty, both plants and decorative boulders serve as teaching tools. All were selected with assistance from UCCS faculty members. For example, George Bolling, senior instructor, Geography and Environmental Studies, led the selection of rocks native to Colorado but not found on campus. In one boulder, fossils are clearly visible. Another gray and white boulder's clearly defined mica layers stood in contrast to the reddish-orange sandstone normally found on campus.
Beauty will also meet function when newly planted vines inch up steel grates and obscure views of air conditioning units. Metal strips will be interwoven into a fence at the trash dumpsters to obscure the business end of Centennial Hall.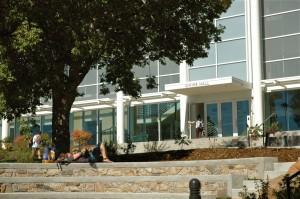 Turning the unused and unloved backside of the former Science building into the latest campus gem was all part of the Centennial Hall renovation.  The transformation fit with an overall goal to soften the campus, to try to separate pedestrians and cars, and to provide unofficial lounge spaces for students, faculty and staff to meet, exchange ideas and to enjoy the Colorado sunshine.
Photos by Jeff Foster