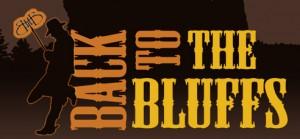 Homecoming this year, Mountain Lion style, includes a new pub, T-shirts and Mark Twain.
Other components of the annual UCCS "Back to the Bluffs" celebration are a family hike, a casino night, and the opportunity for moms and daughters to punch and kick a UCCS officer.
The grand opening of Clyde's, the long-awaited new campus pub, kicked off "Back to the Bluffs" Tuesday. The party featured live music, T-shirt giveaways and an appearance by Clyde, the live mountain lion who is the official mascot for UCCS.
Student activities staff handed out free T-shirts and encouraged students to wear them to volleyball game at the Gallogly Events Center.
On Thursday, popular comedian Nick Thune will bring his unique humor to campus at 8:30 p.m. in Berger Hall. Thune has appeared on the "Tonight Show" and "Comedy Central." Tickets are free to students, $10 for non-students, and are available at the University Center information desk.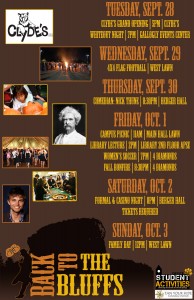 At 10 a.m. Friday in the University Center theater, actor Alan Kitty will appear as Mark Twain, performing a monologue of stories, autobiographical and historical tales and political humor. A question-and-answer session follows, with Kitty answering questions as Mark Twain might have responded.
Kitty and Michael Larson, El Pomar Chair of Engineering and Innovation, will share the stage in "Everything that can be Invented, has been Invented," a performance comparing innovation in the past and present. At 2 p.m. Friday in the Kraemer Family Library 3rd floor apse, Kitty, emulating Twain, will discuss past innovation and invention along with speculation about future inventions and noting Twain's friendship with inventor Nikola Tesla. Larson will speak about innovation in the 21st century.
A campus picnic begins at 11 a.m. Friday on the Main Hall lawn. Tickets are $5 and may be purchased at the UC information desk or at the event. Free tours of the campus are featured afterward.
Because of an open burning ban, an alternative activity to the traditional bonfire was created by Mitch Karstens, program coordinator, Student Activities. The film "The Prince of Persia" will be show at 7 p.m. Friday on the west lawn. Admission and popcorn are both free.
Parents weekend offers family-oriented activities that include a 2-3 hour fall color hike at 8 a.m. Saturday, starting from the UCCS Recreation Center. A guide will take hikers on a tour exploring the bluffs surrounding campus. Contact Daniel Bowan, coordinator, Recreation Center, at dbowan@uccs.edu or 255-3429 for more information.
Benek Altayli, director of the Counseling Center , and Steve Linhart, director of Emergency Management and Judicial Affairs, will present "Coffee Talk" at 10 a.m. Saturday in UC room 303. The pair will share information about various campus resources and services and will answer questions from students and parents.
Linhart will also host an afternoon of quality mother-daughter time from 1-3 p.m. Saturday, UC room 303, demonstrating self-defense techniques. He will discuss basic awareness and teach principles of self-defense with hands-on drills and practical exercises. He said the brief presentation will include valuable tips on self-protection and defense. Contact Linhart at slinhart@uccs.edu or 255-3838 for more information.
Casino night is held in conjunction with the Back to the Bluffs formal "A Night on the Bluffs," at 8 p.m. Saturday in Berger Hall. Tickets, available at the UC information desk, are $10 with a student or alumni I.D., and $20 for non-students. Games will include poker, roulette, Texas hold 'em, black jack and craps.
The annual Familiy Day wraps up Back to the Bluffs on Sunday with a picnic on the West Lawn from 12 p.m. – 4 p.m. There will be barbeque, a bluegrass band, pie eating contests, apple bobbing, and activities for all ages. Tickets are $3 and may be purchased at the UC information desk or at the event.
For parents weekend information, visit www.uccs.edu/~osa/parentsweekend/Events.html or call the UC information desk at 255-3450.