An celebration of former assistant professor Clinton "Clint" N. Fisher's life is scheduled for 4 p.m. to 6 p.m. Oct. 13 at Clyde's in the University Center.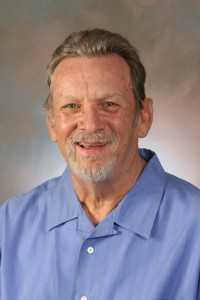 Memorial services took place at 2 p.m. Sept. 25 for Fisher, a former assistant professor in the College of Education, at the Nelson Funeral Home in Leakey, Texas.
Though he had battled severe health problems in recent years, Fisher, 61, of Albquerque, died unexpectedly at his home Sept. 20.
Dr. Fisher was a member of the faculty from Aug. 2002 until May 2010 and had taught middle school science and technology in New Mexico before completing his Ph.D. in multicultural childhood and teacher education at the University of New Mexico. He earned bachelor's and master's degrees from the University of New Mexico in 1990 and 1997 respectively. At UCCS, he was a strong advocate for technology as a tool to enhance and extend learning, for inclusiveness in all contexts of teaching and learning, and was tireless in his work with the Pride Committee. He taught courses in instructional technology, secondary teaching methods, elementary science methods and graduate research projects.
He also served as a member of the president's diversity advisory committee, as co-chair of the Faculty Council GLBTI Committee, as a member of the Teaching and Learning Center Advisory Board, and as member of the National Commission of Technology and the Future of Teacher Education in addition to numerous other committees.
To see his obituary as prepared by family members or to leave condolences, visit http://www.nelsonfuneralhomes.net/index.cfm.