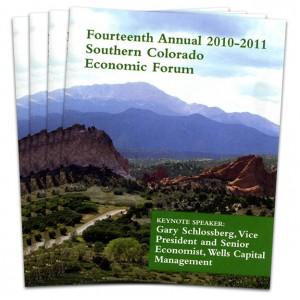 Tom Zwirlein and Fred Crowley could hardly contain their enthusiasm this week as they reviewed the data that will build their forecast for the regional economy in 2011.
"The flavor of the Fourteenth Annual Southern Colorado Economic Forum is a lot more optimistic than the last couple of years," Crowley, senior instructor, Business, and forum co-director said.
"Yeah, but remember we're coming off historic lows," Zwirlein, professor, Business, and forum director countered. "Anything is an improvement."
The bantering and analysis of everything from unemployment rates, personal income, population, retail trade and construction activity is all part of the event that will draw more than 500 Colorado Springs business leaders to the Antlers Hilton Hotel, 4 South Cascade, beginning at 7 a.m. Oct. 1. The forum offers a glimpse into the future, one that has proven accurate, though not always popular.
Joining Crowley and Zwirlein will be Gary Schlossberg, a senior economist with Wells Fargo Capital Management who will provide a national and international outlook. A panel discussion featuring Norman Bellingham, chief operating officer, U.S. Olympic Committee, Tom Duening, El Pomar Chair of Business and Entrepreneurship, and Elliot Pulham, chief executive officer, U.S. Space Foundation, is also planned. Steve Helbing, regional president, Wells Fargo, will moderate the panel.
"There are clearly lots of indicators that southern Colorado is turning a corner," Zwirlein said before Crowley quickly cautioned that large percentage increases can be misleading.
"A 22 percent increase coming off a year when you saw a 15 percent drop isn't quite as impressive as you might want to believe," Crowley said. "But for those who anticipated a V-type recovery, that's probably not going to happen. It's going to be, as we have predicted, a long, bottom-feeding recovery."
Officially, the U.S. economy was in recession from Dec. 2007 to June 2009. For Colorado Springs, the lowest point was Feb. 2009 with modest increases in major indicators for the past several months, Crowley said. Buffering the Colorado Springs economy was the strong local presence of the military. But even the military's presence cannot balance a 55 percent loss in manufacturing jobs that occurred over the past decade. Many of the job losses occurred in complex electronics manufacturing. Nationally, manufacturing jobs are down 31 percent during the same period.
To learn more about the forum or to register to attend, visit www.southerncoloradoeconomicforum.com