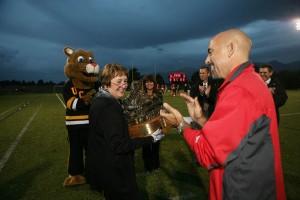 Between games of a Sept. 22 opening of men's and women's soccer seasons, UCCS Chancellor Pam Shockley-Zalabak accepted the trophy for the 2009-10 Steel & Silver Series from CSU-Pueblo President Joe Garcia.
To ensure the 80-pound trophy didn't slip from her grasp during series of afternoon and early evening rain storms, Shockley-Zalabak donned a pair of gloves to improve her grip.
Shockley-Zalabak accepted the trophy between the men's and women's soccer matches between UCCS and CSU-Pueblo. The UCCS women's team won their match by a score of 2-1; the men's team lost by a score of 1-0.
The Steel and Silver Series is more than one game. The contest awards points to the winner of games between the schools in seven women's and three men's sports and a five-point bonus to the university whose student-athletes have the best grades. Ent sponsors the contest.
Mountain Lion teams won the contest with a score of 29-16, including the coveted five-point grade bonus. UCCS teams prevailed last year in women's volleyball, men's and women's soccer, women's cross country and men's golf. CSU-Pueblo teams prevailed in women's basketball and women's indoor and outdoor track. The schools were even in men's basketball and women's softball.
The traveling trophy, created by Joan Aaland of Colorado Springs, is an 18-inch-high, 80-pound bronze and mahogany trophy that features a beam representing Pueblo's steel production history and a pick axe representing the mining history of Colorado Springs with a wolf and a mountain lion, team mascots. The trophy is awarded to the annual winner of the series. UCCS has won the Steel & Silver Series in each of its five years of existence.
Prior to the game, UCCS students rallied in a show of support for UCCS athletics and attended the opening soccer game. Students wore matching shirts, painted bare chests and marched from main campus to Mountain Lion Stadium cheering.