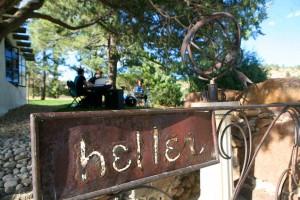 More than a decade in the making, the Heller Center for Arts and Humanities will officially open to the campus Oct. 6.
Beginning at 3:30 p.m., faculty and staff interested in seeing the renovated 1940's-era home of the late Larry and Dorothy Heller can ride in shuttles to the property nestled in what the Hellers termed "Yawn Valley" northwest of the campus.
To attend, send e-mail to rsvp@uccs.edu by Oct. 4. Shuttles from the University Center will be the only transportation available to the site. Questions should be directed to 255-3637.
"The Heller Center will provide a refuge for creativity and is a wonderful addition to our campus," Perrin Cunningham, director, Heller Center said. "I'm eager for everyone to see this jewel. "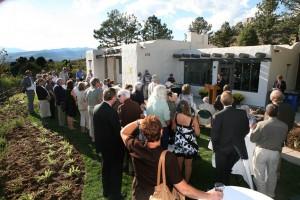 Following Dorothy Heller's death in 1999, the home, surrounding property and art collections were donated to UCCS. Called "the most interesting house in Colorado Springs" by architect Frank Lloyd Wright, it was no ordinary fixer-upper. Larry Heller, an artist and filmmaker, built the house from adobe in Pueblo Revival style himself with help from Dorothy who worked as the first woman police officer in Colorado Springs. Beginning in the 1930s, he used materials he found locally to build a home that suited the couple and their needs, not local building codes or use by dozens of people at a university function. Doorways were less than six-feet-high, stair riser heights varied, the foundation was crumbling and both plumbing and electrical systems rudimentary. Making the home meet modern building and fire codes required ingenuity, patience, creativity, and money.
The funds were raised privately. A grant from the State Historical Fund provided an historical assessment of the property and a plan for its renovation to the period of historical significance, 1948. Substantial donors included Betty Taylor, a schoolteacher, who in 2005 left her Montana ranch to UCCS with instructions that it should be sold and proceeds used to restore the Heller property. Other donors included Lyda Hill, and Joan and Bob Donner.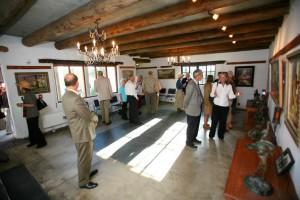 Because private donors made the restoration possible, they were treated to the first viewing of the completed property by Chancellor Pam Shockley-Zalabak. The event showcased the efforts of Cunningham, Stan Rovira, project manager, Facilities Services, and the special projects unit of Phipps Construction headed by Jeff Brisk.
To see a 2002 Colorado Springs Gazette story on the history of the Heller property, visit House with fabled past may receive second life
To see a 2002 Colorado Springs Independent story on the Hellers, visit The Great Gatsbys of Yawn Valley
To see a 2005 KOAA video on the Heller Center, visit UCCS Gets Heller Ranch
Photos by Tom Kimmell