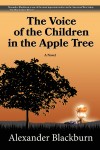 Alexander Blackburn, professor emeritus, Department of English, recently published "The Voice of the Children in the Apple Tree," a story of love that blossoms in the dawn of the atomic age.
The 498-page book was published in January by Rhyolite Press, Colorado Springs. It is available in paperback or as a Kindle download from Amazon.
This is Blackburn's fourth published novel. Others include the critically acclaimed "The Door of the Sad People," a historical fiction novel published by Rhyolite in 2014 and patterned after the Colorado coal mining wars culminating in the Ludlow Massacre of 1914.