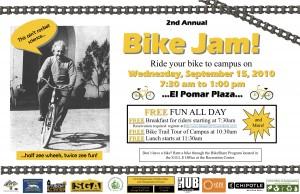 The second annual UCCS Bike to School Day Sept. 15 will encourage fun but with a serious message.
"More than 80 percent of the campus community comes to the university in a single occupancy vehicle," Linda Kogan, director, Office of Sustainability, said. "This is a significant part of our environmental footprint and bicycling is one way to reduce this impact."
The event, informally known as Bike Jam, celebrates bicycling and will provide maps, free bike tune ups and opportunities to learn about sustainable transportation. The program will be from 7:30 -9:30 a.m. and 11:30 a.m.-1 p.m. at El Pomar Plaza.
A free breakfast, served from 7:30 a.m. to 9:30 a.m. at El Pomar Plaza, awaits riders who register at http://www.eventbrite.com/event/813655666. There will also be an opportunity to donate a bike to the Pikes Peak Justice and Peace Commission's Bike Exchange to Outfit Homeless Riders program. Good condition bikes may be donated from 7:30 a.m. to 1 p.m. Sept. 15. To arrange an early drop off of a donated bike, contact Carole Huber, senior instructor, Geography and Environmental Studies, chuber@uccs.edu or Kogan, lkogan@uccs.edu. For more information on the program, visit http://www.ppjpc.org.
Guided mountain bike tours of single-and double- track trails northwest of campus will leave from El Pomar Plaza at 10:30 a.m. Helmets and familiarity with off-road riding are recommended.
Bike Jam Schedule
El Pomar Plaza
7:30 a.m. – 9:30 a.m. Breakfast for riders, tune-ups, prize and music.Prizes will be awarded for best costume, longest ride, ugliest bike, best decorated bike, oldest bike and the department with the most riders.
10:30 a.m. Campus cruise on the mountain bike trails on campus led by Public Safety.
11:30 a.m. – 1 p.m. Chipotle, music, free tune-ups, prizes, games