About 150 people are expected to attend a luncheon next week to receive the annual report and to celebrate the accomplishments of El Pomar Institute for Innovation and Commercialization.
UCCS Chancellor Pam Shockley-Zalabak will welcome guests to the event, scheduled for 11:30 a.m. Sept. 15 at the Penrose House Pavilion. Thayer Tutt, president, El Pomar Foundation, will speak, and the three El Pomar endowed chairs will discuss their work.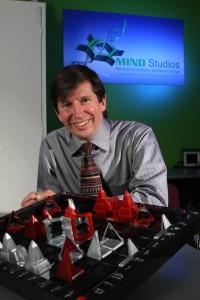 Michael Larson, El Pomar Endowed Chair for Engineering and Innovation, Tom Duening, El Pomar Endowed Chair for Business and Entrepreneurship, and Terry Boult, El Pomar Endowed Chair for Innovation and Security, will have a question-and-answer session following their individual presentations.
Larson, who is also the associate vice chancellor for research and innovation, is involved in a research project to perfect fusing biological tissue as an alternative to suturing or stapling.
Agencies funding his research include the National Science Foundation, the U.S. Air Force, the Missile Defense Agency, and many private corporations. The annual report cites, among other activities, his service as director of MIND Studios, a product design and research facility at UCCS. MIND Studios serves community clients ranging from individual inventors to medium-sized companies by providing services including refining and evaluating ideas, prototyping devices, providing manufacturing guidance and producing multi-media documentation and advertisements.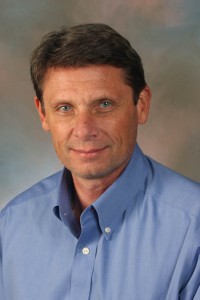 Duening has served in many executive positions, including president of U.S. Learning Systems, LLC, vice president for Content Development at Edgia, Inc., and as owner and CEO of the consulting firm INSYTE Business Research Group. He is the author of numerous journal articles and 12 books on investing in entrepreneurship. Through his leadership, an EPIIC venture fund tentatively titled the "Intermountain Fund" to reflect its focus on regional investing, is being established. Duening played a large role in forming a partnership between EPIIC and the Colorado Springs Entrepreneurs Group. He was involved in creating the first Business Revitalization and Innovation Competition, a contest that paired UCCS student teams with local companies to make those businesses more effective.
Boult has ongoing research projects that encompass a variety of high-tech applications. These include advanced biometrics, advanced visual security systems, design and evaluation of imaging sensors for facial recognition, evaluation of weather effects on facial recognition, and algorithms for efficient use of wireless networks. Since 2003, Boult's partner companies have been awarded more than $7 million in funding for innovation and research and technology transfer support for small businesses. Boult was instrumental in developing the Bachelor of Innovation degree and provides both teaching and community outreach for the program. The BI is a family of degree programs in which particular majors are defined in a unique interdisciplinary undergraduate collaboration between the College of Engineering and Applied Science and the College of Business.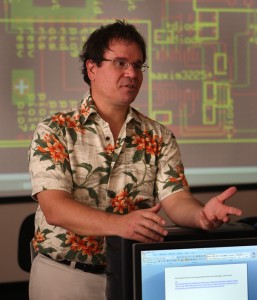 "The annual report is all about updating the Colorado Springs community," said Beverly Wasinger, program assistant, EPIIC. "The luncheon lets the El Pomar chairs get out and tell the public how their work at UCCS has engaged the community and served the region through the past year."
The 2009-2010 academic year report, entitled, "Sparking Creativity / Igniting Innovation" describes the variety of ways EPIIC assists individuals and organizations. It offers an overview of programs created to serve EPIIC's mission to identify emerging technologies and to bring commercially viable ideas to the local region.
Report highlights include how EPIIC has promoted and supported entrepreneurship throughout the region, the success of the Bachelor of Innovation, and product design and development through MIND Studios. Also noted are the various EPIIC-sponsored outreach programs that include a variety of all day workshops and GameQuest, a week-long summer camp for middle school students where they experienced inventing games and steps to getting products to market.
The success of Mountain Lion Research Day, jointly presented by the UCCS Office of Research and EPIIC is also noted. Research from every discipline is showcased with invitations to the faculties of other Colorado institutions of higher learning. Mountain Lion Research Day recognizes the work of UCCS students and EPIIC makes it an opportunity to connect campus research to community, business and educational entities in the area.
"EPIIC is at the forefront of change that will influence our community and region for years to come," said Shockley-Zalabak.