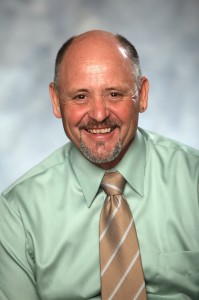 Kee Warner, associate vice chancellor for diversity and inclusiveness for UCCS, will be the grand marshal for the 44th Annual Fiesta Day Parade Sept. 5 in Pueblo.
Warner will lead the 2010 Fiesta Day queen and her court, and other dignitaries in a parade that honors the many cultures and ethnicities that form today's Hispanic communities, according to Fiesta Day organizers. There are more than 100 parade entries.  Warner asked to be listed in the program as Kee Warner Carrillo following the Latin American tradition of using both fathers' and mothers' surnames.
Warner was selected as grand marshal to recognize his leadership and collaboration in advancing education within Hispanic communities and his engagement with the parade's theme of  Mestizaje: Many Cultures, One Future.
The parade begins at 10 a.m. and will follow Northern Avenue west from Abriendo Ave. to Beulah Ave. Accompanying Warner will be his mother, Natalie Carrillo Warner, wife, Kate, and daughter, Eva.