Corey Laster, most recently an assistant at NCAA Division I Bucknell University, is the new  UCCS women's basketball coach.
Steve Kirkham, director, Athletics, announced the appointment Aug. 31.
Laster was an assistant for three seasons with Bucknell. Previously, he orchestrated an eight-win turnaround as the head coach for Division III Defiance (Ohio) College, leading the Yellowjackets to a 14-11 record in 2006-07.
"I'm excited for the opportunity," said Laster. "I love the Division II level. It provides a great balance for student-athletes as well as professionals like myself."
Laster inherits a team that went 6-21 in 2009-10 and hasn't had a winning season since 2001-02. He also inherits one of the best recruiting classes in school history and will be looking to assess and then mold that talent into a winner.
"I think UCCS is, I heard the term during the interview process, a sleeping giant," said Laster. "Developing a great program requires a lot of people and teamwork. We hope to have a lot of fan support; get people behind our program and get to know our program.
"We're going to put a lot of good ingredients into our soup and hope it's going to taste real good."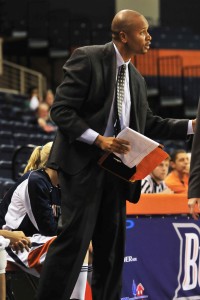 Laster started his coaching career at his alma mater, Taylor University in Fort Wayne, Ind., as an assistant men's basketball coach in 1999. He became the head coach of the women's program a year later and remained in that position for three seasons. He concurrently held the posts of director of residence life, director multicultural affairs and associate dean of students.
While with the Trojans, Laster took a program that went 4-20 the season prior to his arrival and turned it into a squad that went 25-3 and a fifth-place ranking in the National Small College Athletic Association in 2002-03
He left Taylor to go to NCAA Division II Saint Michael's University in Colchester, Vt., where he served as top assistant for two seasons.
Laster replaces Kirkham who served as both athletic director and women's basketball coach for the 2009-10 school year.
"It will benefit both the women's basketball program and the athletic department as a whole to have those positions separated," said Kirkham.
— Doug Fitzgerald