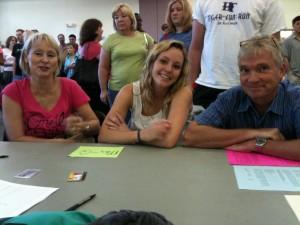 More than half of an anticipated 1,200-student UCCS freshman class had some high-level help when they moved to campus Aug. 17.
Joining with resident assistants and other housing staff members were members of the campus strategy team which includes campus vice chancellors and several department directors.
Wearing a white shirt and tie, Homer Wesley, vice chancellor, Student Success, found himself in the basement of Summit Village. There, alongside dozens of discarded land line telephones, were various pieces of wood needed to make bunk beds. Head and foot boards in hand, Wesley made the trek upstairs with a freshman and his father leading the way.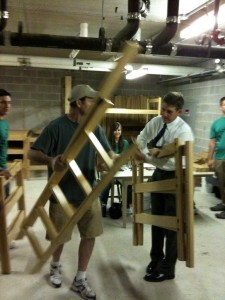 For Jerry Wilson, executive director, Information Technology, and Gayanne Scott, executive director, Resource Management, the day began in a north side parking lot.
"This one's heavy," Wilson said as he grabbed a plastic bin from the back of a van. "And let me guess, it's going to the fourth floor, right?"
Having administrators on hand at move-in served both philosophical and practical purposes. Parents and students were greeted by those who could answer questions and offer reassurance. On the practical front, extra hands meant cars emptied quickly as close-in spots rotated.
"Hi, I'm Jenenne," Jenenne Nelson, dean, Graduate School and a nursing faculty member said as she set down a box of books she carried three flights of stairs. "I'm guessing by these titles you might be a nursing student. I'm pleased to meet you."
Ralph Giese, director, Residence Life, created new processes this year that improved check-in speed. While pancakes were served to those in line early, the Upper Lodge served as headquarters where students received paperwork and room assignments before beginning to unload the family SUV.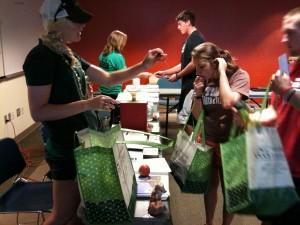 In meeting rooms in Breckenridge, campus offices important to students were also present. Among them were the Bookstore, Student Health, Parking and the Office of Sustainability which gave students reusable grocery bags containing a compact fluorescent light bulb and a notebook made of recycled paper. In all, 300 bags were distributed.
"Every little bit helps, right?" quipped Linda Kogan, director, Office of Sustainability.
— Photos by Tom Hutton