A 10-member UCCS student team took first place at the Daniels Fund Ethics Initiative's 2014 Ethics Consortium Case Competition April 15-16 at the Hyatt Regency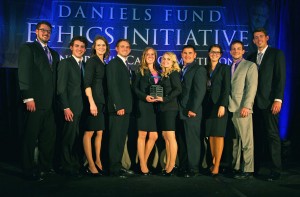 Denver at Colorado Convention Center.
This was the third year that student teams from eight universities in four states converged in Denver to compete. Eight business leaders from communities across Colorado, New Mexico, Utah, and Wyoming served on a judge's panel that heard team presentations and questioned student presenters.
The winning team was guided by Tracy Gonzalez-Padron, associate professor, College of Business, and Elisabeth Moore, ethics initiative coordinator, College of Business. Gonzalez-Padron directs the ethics initiative at UCCS.
The Ethics Case Competition was designed to challenge students' ethical reasoning and to raise awareness of the importance and value of principle-based ethics. Competing teams represented all eight member universities of the Daniels Fund Ethics Consortium.
Student teams were given a business ethics case that required an analysis of the situation and a recommended strategy. This year's case was based on the real-life challenges posed by genetic screening and its ramifications in the workplace.
At the competition, each team presented its recommended strategy to the panel of judges and participated in a question and answer session. They then received new information — an unforeseen crisis that put a twist on the case. Teams had approximately four hours to reassess their original recommendation for a second presentation and questions from the judges.
The judging panel evaluated presentations against established criteria including principles established by the Daniels Fund Ethics Consortium: integrity, trust, accountability, transparency, fairness, respect, rule of law and viability.
A team from University of New Mexico placed second and the team from University of Utah placed third.
See a highlight video
Reflecting Bill Daniels' personal commitment to ethics and integrity, the Daniels Fund Ethics Initiative was established in 2010 to foster a high standard of ethics in students and strengthen the teaching of principle-based ethics at the college level.
The Daniels Fund partnered with eight universities — Colorado State University, New Mexico State University, University of Colorado Colorado Springs, University of Denver, University of New Mexico, University of Northern Colorado, University of Utah, and University of Wyoming — to implement the pilot program. Each participating university is a member of the Daniels Fund Ethics Consortium. The Consortium leverages the achievements of the individual business schools through collaboration to further strengthen the overall impact of the ethics initiative. Members share expertise and resources such as curriculum, case studies, instructional approaches, and co-curricular activities.
The UCCS team members were:
Cody Bierdeman-Rojas, Castle Rock freshman
Brett Cheatham,  Colorado Springs sophomore.
Jenna Danielson, Colorado Springs sophomore
Samuel Elliott, Colorado Springs sophomore
Benjamin Griffith, Peyton freshman
Jacob Lozow, Englewood senior
Anita Moser, Colorado Springs junior
Joshua Resnik, Colorado Springs junior
Jennifer Scoville, Colorado Springs freshman
Melanie Whitcomb, Monument junior