Gene Abrams shared insight gained from 29 years as a professor and nine years as a college student with UCCS freshmen Wednesday afternoon.
"Let's be clear about something," Abrams said. "You're not in high school anymore."
Abrams, a CU System-wide President's Teaching Scholar and veteran math professor, paced the stage in a broad-ranging speech that mixed humorous anecdotes with sage advice before an almost-capacity Gallogly Events Center crowd. Most in attendance at opening convocation were UCCS freshmen and their parents with a smattering of faculty, staff and administrators.
Using parallels from "The Last Lecture" written by the late Carnegie Mellon professor Randy Pausch, Abrams offered insight into his own career as well as counsel for future success. "The Last Lecture" is required reading for students participating in Freshman Seminar.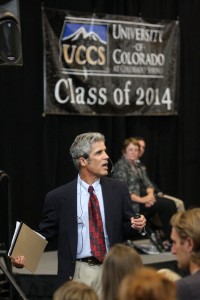 Continuing with his "you're not in high school anymore" theme, Abrams explained that high school teachers are required to ensure that students learn certain material and that state law compels students to attend. On the other hand, college education is akin to a health club or gym.
"You're going to get out of college what you put into it, just like you would at the gym. Our job is to make information and opportunities available to you."
Using what he called "back of the envelope" math, Abrams estimated that Wednesday's speech was his 5,000th lecture as he quickly recounted his years in UCCS classrooms during fall, spring and summer semesters, and guest lectures at high schools, research conferences, baseball games and microbreweries.
"Find your passion but maintain your balance," Abrams said to the students, many of whom moved to campus housing Tuesday and were participating in Freshman Seminar prior to the start of classes.
He encouraged browsing the UCCS course catalog and taking a class because it "sounds interesting" while continuing to make progress toward a degree. He encouraged students to "be interested and interesting" and to be life-long learners.
Abrams said he was privileged to combine his passions by helping to develop Math Youth Days for elementary and middle school students attending afternoon Colorado Springs Sky Sox games  as well as participating in Café Scientifique sessions at local restaurants.
Other tips for success offered by Abrams include
Work hard
Think broadly and deeply
Be interested and be interesting
Don't submit crap
Find a passion but maintain balance
Work (out) hard – universities are health clubs for your head
Appreciate this opportunity (to attend university), and take full advantage of it
To see a video of convocation filmed by Media Services and posted by Web Services, visit  http://www.uccs.edu/~provost/convocation/convocationvideo.html.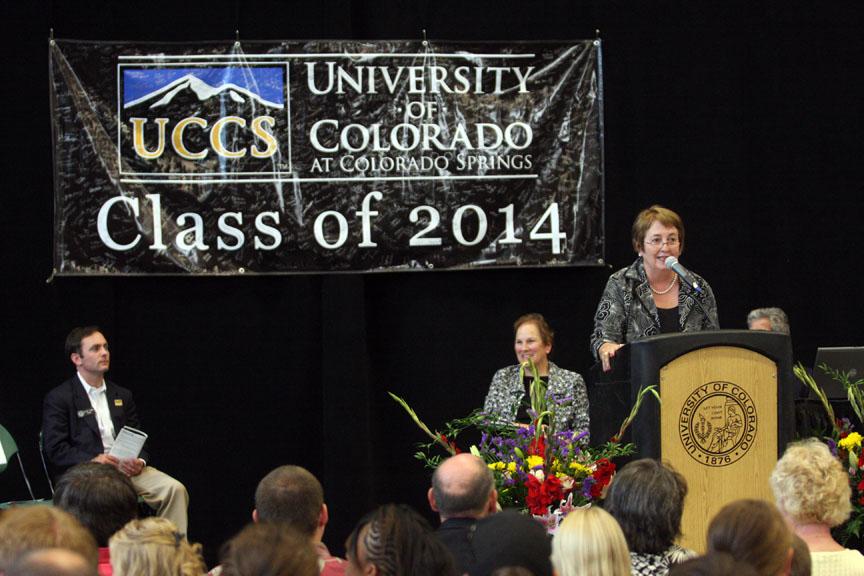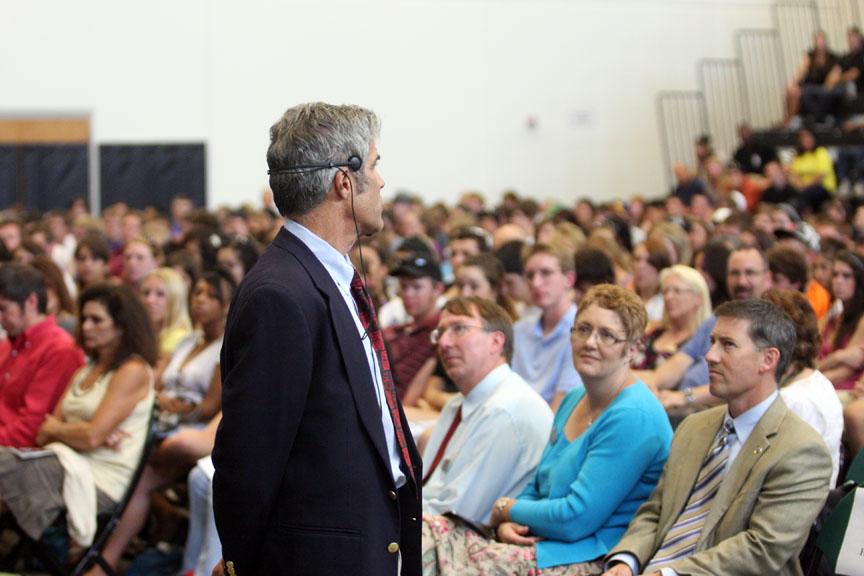 Photos by Tom Kimmell