The UCCS University Advancement office received two awards from the Council for the Advancement and Support of Education during the CASE District VI conference Jan. 10 – 13 in St. Louis.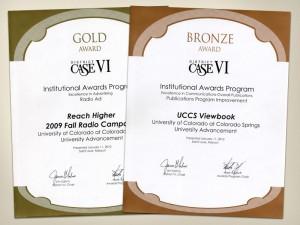 The awards were:
Gold award for Excellence in Advertising Radio Ads, for the Fall Reach Higher Radio Campaign.
Bronze award for Excellence in Communication Overall Publications Improvement, for the UCCS Reach Higher Print Campaign.
Allison Swickard Gorman, marketing director, University Advancement, and Jeff Foster, multimedia marketing coordinator, University Advancement, led the development of the award-winning projects.
CASE is an international organization for educational advancement and is made up of colleges, universities and independent school staff members in the fields of marketing, communication, public relations, fundraising and alumni relations. This year CASE received more than 1,500 entries for the annual awards program from schools in Missouri, Colorado, Iowa, Kansas, Nebraska, North Dakota, South Dakota and Wyoming. The entries were critiqued by judges outside of the submitting CASE region and UCCS competed with schools having more than 7,500 students.