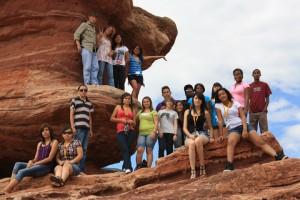 Twenty area high school students escaped the city's summer heat July 19 through 28.
But it was not all fun and games for the first group of Marquez Scholars at UCCS. The 20 students, representing fifteen high schools in the Denver Public Schools district and one Colorado Springs high school, attended four hours of classes daily followed by daily homework assignments. They also participated in workshops and field trips.
"High school students today feel plenty of pressure to go to college but often do not get a real sense of what that means," Kee Warner, associate vice chancellor for diversity, said. "Our goal is to help these young people put their feet in the water so they are better prepared for the college experience."
Warner, himself an alum of Denver East High School, believes that many DPS students have what it takes to be academically successful but are not exposed first-hand to the full menu of possibilities for college in Colorado.
Marquez Scholar students, all of whom will begin their senior years this fall, earned college credit for taking an intensive Introduction to Sociology course. The course was rigorous, offering an idea of college-level work and was enriched by the diverse perspectives and backgrounds of the students, Warner said.
But there was still time for fun.
The students had dinner at the home of UCCS Chancellor Pam Shockley-Zalabak, visited Garden of the Gods, downtown Manitou Springs, the Cheyenne Mountain Zoo, and the U.S. Olympic Training Center. They even spent an evening at Mr. Bigg's for rest and relaxation.
Those experiences were designed to build community among students and rapport with mentors, and to highlight connections between UCCS and the surrounding community.
"By visiting the chancellor at her home, we began to demystify the ivory tower image of higher education," Warner said. "The students had a chance to ask her questions and see first-hand that there are people who genuinely want them to succeed and who are willing to help."
At the end of the summer institute, the students returned home for their final year of high school. But that won't be the end of the connection to UCCS. The Marquez Scholar program will match students with mentors and stay connected with them during their senior year, offering what Warner calls "a bridge to a smaller scale public university and the options available to them."
The program is made possible by support from the Denver Public Schools and the Timothy and Bernadette Marquez Foundation in Denver.
Photo by Michael Reyes