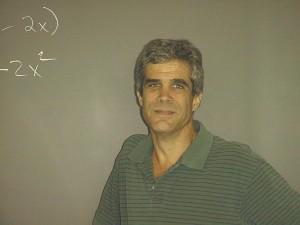 The 2010-11 academic year will officially begin at 4:30 pm. Aug. 18 with a convocation ceremony featuring Gene Abrams, professor, Mathematics, and a presidential teaching scholar.
Abrams will begin his 27th year on campus by addressing a crowd of predominantly freshman students gathered at the Gallogly Events Center, built specifically to allow large on-campus events in addition to athletic contests.
Titled "The 5,000th Lecture," Abrams will share insights from the book "The Last Lecture" written by the late Randy Pausch, a computer science professor at Carnegie Mellon University. Pausch died in July 2008 from pancreatic cancer.
"Gene exemplifies the combination of research, teaching and service that are the fabric of UCCS," Peg Bacon, provost, said. "He has worked to make a difficult subject accessible for his students and has conducted research to gauge their progress and alter teaching methods accordingly."
Abrams was named a Presidential Teaching Scholar in 1996 and earlier earned both campus and regional teaching awards in addition to authoring or co-authoring  more than 40 published articles on mathematics research, various articles on mathematics teaching and a book (in preparation) with two Spanish colleagues.
Convocation is open to all UCCS faculty, staff and students. A free barbecue on the University Center plaza will follow.