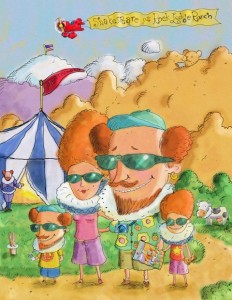 Dates: August 5-28 (Tuesday – Saturday) 7:30 p.m.
Tickets: $5-$30
Welcome to Windsor, Colorado, pop. 30. It's a small tent city located at Rock Ledge Ranch, out there by the Garden of the Gods. Nice people, mostly. Some of them a little odd, some pretty regular. There's a well known fellow by the name of Sir John Falstaff who's come to town thinking he'll seduce some attractive married women.  There's a Welsh schoolmaster who wants to have it out with the French doctor. There's an adorable young maid by the name of Anne, with a bevy of suitors, one favored by mom, another by dad, and another by Anne herself.  And there's one extremely jealous husband, who's convinced his wife is betraying him with a fat old knight.  There are lots of kids who sing and like to dress up as fairies and pinch people. It's a very lively place, Windsor. You wouldn't expect anything else from a village created by William Shakespeare.
The Merry Wives of Windsor has always been one of Shakespeare's most popular plays, and in returning to the great outdoors this summer, THEATREWORKS is responding to tradition and to popular demand. The festival played for 20 years in the city parks before picking up stakes and settling down in the Dusty Loo Bon Vivant Theater. "The Bon Vivant" was irresistible," says Murray Ross, "THEATREWORKS artistic director— it's such an attractive and flexible playing space, and a very protected and reliable one too."  But after seven years of indoor Shakespeare, the company felt there was something missing: the great outdoors.  "The winds can blow, the rain can come down, you can get hammered by hail, flooded by monsoons and threatened by lightning" Ross says, "but the truth is there's something about Shakespeare that belongs outdoors on a summer night. There's nothing like it."
So this summer THEATREWORKS returns Shakespeare to the park—but not just any park.  The Merry Wives of Windsor will play in the custom festival tent set up on the meadow at Rock Ledge Ranch. Ross says, "it's by far the most beautiful setting we've ever had for Shakespeare—quiet, convenient, the parking is plentiful, it's secluded, it has a pond, and it is beautiful." The site is especially appropriate for this summer's production, since director Kevin Landis is setting the play as if it took place in Colorado Springs in the first decade of the twentieth century. The historically preserved Rock Ledge Ranch provides the perfect location for the village, transplanted from sixteenth century England to turn of the century Colorado (with all of Shakespeare's language surviving completely intact).
Audiences will be treated to more than a play—they will find themselves immersed in a delightful world, both in and outside of the tent at Rock Ledge Ranch. There will be musicians, minstrels, jugglers, and clowns on the meadow—audiences are invited to picnic first on the beautiful grounds and then see the show, which begins at 7:30, just about sundown.THEATREWORKS has assembled a stellar cast to light up this village.
Robert Rais, widely and justly regarded as the funniest man in town, will jump into a fat suit and chase good looking women in the role of Sir John Falstaff.  He will not, however, score; instead he will find himself repeatedly humiliated by two merry wives, played by Amy Brooks and Kara Whitney. Khris Lewin, well known here for his award winning performances as the dashing Cyrano and the haunted prince of Denmark, returns to play the madly jealous husband, Master Ford. Tom Paradise plays a the volatile French doctor, Michael Preston the very self- satisfied parson, and Leah Chandler Mills is Mistress Quickly, so much more than a lusty tavern wench.
Tonya Moake will light up the tent, and some of the surrounding meadows and woods. Roy Ballard is the set designer and Sarah Shaver outfits the village. The director is Kevin Landis.
The Merry Wives of Windsor plays nightly Tuesdays through Saturdays at 7:30 August 5-28.  There are no performances on Sunday and Monday evenings.
Tickets to Shakespeare at the Ranch may be purchased online at www.theatreworksCS.org or by phone at (719) 255-3232.
— Drew Martorella