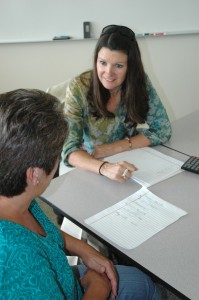 It wasn't a bus load of money that arrived on campus July 9 but the Money Bus, a project of the National Association of Personal Finance Advisors Consumer Education Foundation.
The green bus parked in lot 1 served as a beacon to those who wanted to take advantage of free sessions with professional financial advisers. More than 30 people met in a first floor Cragmor Hall room to take advantage of the free, no obligation sessions to get advice or to ask questions that ranged from credit card debt to retirement investing, according to Lisa Gilman, alumni relations coordinator, College of Business.
The College of Business Alumni Association was a partner in the Colorado Springs stop of the non-profit tour which will visit more than 25 cities. Other sponsors included TD AMERITRADE and Kiplinger's Personal Finance magazine.
All Money Bus visitors received a free financial education kit including a Kiplinger's Personal Finance magazine and a budget workbook.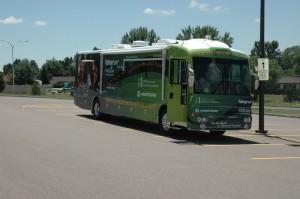 Photos by Tom Hutton