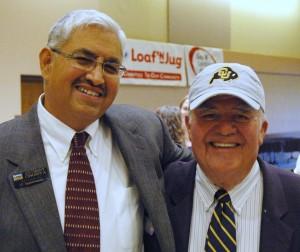 UCCS, CU leaders stress education in Pueblo
More than 150 Pueblo-area youth and their families received a college is possible message from UCCS and CU Boulder leaders June 29.
Chancellor Pam Shockley-Zalabak, Anthony Cordova, director, MOSAIC, and Andrea Cordova, deputy chief of staff, Office of the Chancellor, joined with representatives from UCCS and CU Boulder alumni associations and the Pueblo Hispanic Education Foundation to celebrate nine current Pueblo-area students and to encourage others to follow in their footsteps. Hank Anton, CU regent emeritus, also participated in the event.
Shockley-Zalabak emphasized UCCS' commitment to keeping higher education accessible to families of low-and moderate-income and highlighted UCCS alum Tisha Casida, a Pueblo small business owner.
"At UCCS, we are committed to making sure that access to a CU education is possible for families of moderate means from throughout southern Colorado," Shockley-Zalabak said. "We believe individual success is the key to long-term community and regional success."
Shockley-Zalabak's message was supported by Anthony Cordova who was raised in Avondale, east of Pueblo, and who attended UCCS as a middle-aged freshman following a career as a heavy equipment operator.
"The only way to fail is to fail to ask for help," Cordova told the students as he shared his experiences at UCCS as a student and staff member.
Anthony and Andrea Cordova created a scholarship administered by the Pueblo Hispanic Education Foundation, naming it in honor of Anthony's parents, Presiliano and Anita Cordova.
Former CU Boulder coach Ceal Barry connected success in athletics to academic and professional achievement. Having goals — and persistence in achieving those goals — are hallmarks of success on and off the court, she said.
Those students recognized at the event were:
Ashley Solano, CU Denver
Jason Romero, CU Boulder
Jared Espinoza, CU Boulder
Cassandra Berndt, UCCS
Leonard Martinez, CU Boulder
Neva Martinez-Ortega, CU Denver
Nicholas Ackermann, CU Boulder
Gary Gomez, CU Boulder
Leticia Martinez, CU Boulder
Photo by Jennifer Hane