ANB Bank will honor former president Dennis Nathan with a new scholarship for students in the UCCS College of Business.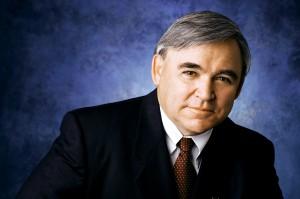 The $2,500 annual scholarship will be awarded to an undergraduate business student who displays strong academic achievement and financial need. The scholarship will be awarded yearly for the next three years and will be administered by the College of Business.
Nathan was a 43-year veteran of the banking industry. At the time of his 2011 death, he was president and chief executive officer of ANB Bank, Colorado Springs. He served on a number of non-profit boards including Pikes Peak Hospice and Palliative Care, the Cheyenne Mountain Zoo, the Greater Colorado Springs Economic Development Corporation, the Boys & Girls Club Foundation, Pikes Peak Mental Health Center, and was a founding member of the Center for Christian-Jewish Dialogue.
"Mr. Nathan was a great leader and a kind and compassionate person," Lonnie Parsons, regional president, ANB Bank, said. "This is one way to honor his 21-year legacy with the bank and keep his memory alive."
Venkat Reddy, dean, College of Business said: "We are deeply grateful for ANB's partnership in honoring such a leader in our community. The support of this scholarship will help ensure that Dennis Nathan's strong commitment to ethical business practices and civic engagement will continue in our future business leaders."
For more information about the ANB Dennis Nathan scholarship, contact Rashell McCann, director undergraduate program, College of Business, rmccann@uccs.edu, or  255-3587.
ANB Bank is a large, independently owned community bank with 38 banking centers, located in Colorado, Wyoming and Kansas. Its parent company, Sturm Financial Group, Inc. is headquartered in Denver and has more than $2 billion in assets. ANB Bank has six Colorado Springs locations.