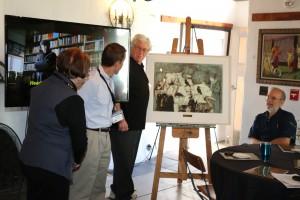 Charles "Chip" Benight, professor, Department of Psychology and director of the Trauma Health and Hazards Center, received a framed lithograph Sept. 28 as part of his designation as a President's Teaching Scholar.
Meeting at the Heller Center for Arts & Humanities, Benight joined 28 members of the group of CU faculty members chosen in recognition of their outstanding integration of teaching and research throughout their careers.
Mary Ann Shea, director, Faculty Teaching Excellence Program, presented Benight with a lithograph of "The Seminar." The artwork was created by Frank Sampson, professor emeritus of fine arts, CU Boulder, and is given to each member of the President's Teaching Scholar group.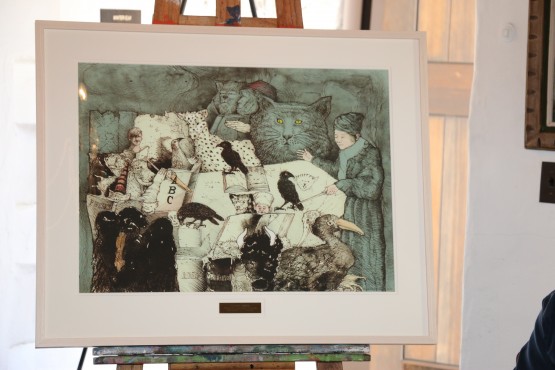 The lithograph depicts a scholar with several class members of unruly animals, a recurring theme in Sampson's work and illustrative of his fantasy of human learning from, and interacting as equals with, animals.
"Where's the elephant, Chip?" asked Jim Burkhart, President's Teaching Scholar and professor, Department of Physics.
Benight and two other CU faculty members, Scott Douglass, associate professor, College of Engineering and Applied Sciences, CU-Boulder, and Elspeth Dusinberre, associate professor, Classics Department, CU Boulder, were named President's Teaching Scholars in April. The group holds an annual retreat. For the past four years, the sessions were conducted at the Heller Center.
The lithograph presentation precluded day-long discussions focused on "Seismic Change" in higher education and in the integration of teaching and research using the advent of MOOCS (Massive Open On-line Courses), as an example of change. Chancellor Pam Shockley-Zalabak welcomed the group to UCCS and also participated in the lithograph presentation.
In addition to Benight and Burkhart, other UCCS faculty members who are President's Teaching Scholars are:
Gene Abrams, professor, Department of Mathematics
Bob Camley, distinguished professor, Department of Physics
Fred Coolidge, professor, Department of Psychology
Paul Harvey, professor, Department of History
Andrea Herrera, professor, Women's and Ethnic Studies
Tom Huber, professor, Department of Geography and Environmental Studies
Joan Ray, professor emerita, Department of English
Barbara Swaby, professor, College of Education
Don Warrick, professor, College of Business
For more information about the program, visit http://www.colorado.edu/ptsp/index.html
— Photos by Tom Hutton