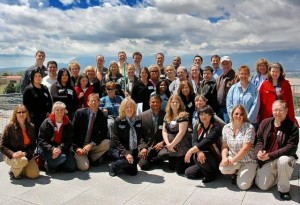 Supporters of improving education for the blind took part in demonstrations of new technology May 15 at UCCS as part of the first-ever Crossover Applications Symposium.
The symposium attracted about 50 community participants including parents, teachers, visually impaired children in grades K-12, and administrators from The Colorado School for the Deaf and the Blind.
The symposium provided examples of state-of-the-art technology to assist blind and visually impaired persons, according to S.K. Semwal, professor, Computer Science.
The symposium featured demonstration sites in the Engineering and Applied Science Building, the UCCS Library and the UCCS Science and Engineering Building. Demonstrations showcased technologies including screen readers offered by the Office of Disability Services, games for the visually impaired, learning environments for the blind, and touch, sound, graphics, and aroma devices.
"There is clear understanding of the role that technology can play in assisting learning for those who are visually impaired," Semwal said. "Technological advances have given the blind and visually impaired new and more accessible methods to make use of all sorts of computer-based media and tools used for learning and professional application."
" Our students are developing new tools in the Games and Media Integration and Computer Science programs which might provide better opportunity for delivery of information and perhaps new freedom to use technology and find employment. We still have a long way to go, but with costs coming down, more technologies being developed and available, and a general awareness of new opportunities to create technologies to serve people with disabilities, we hope that soon most visually impaired people will be able to tap into these new technologies to make their lives easier."
DSoft Technology, a Colorado Springs-based software development firm, funded the symposium which was also supported by the Colorado Department of Education, the Office of Disability Services, and the Games and Media Integration Program in the College of Engineering and Applied Science.
David Hollenbach, managing partner, DSoft Technology, said: "There is a great opportunity here to create technologies allowing people with all sorts of disabilities to use technology to their advantage.  This symposium really opened my eyes to the struggles some people endure and how simple changes to web site design can make a big difference to those with visual disabilities who try to use the Internet for learning and work."
Participants stressed the need for such a meeting annually and the importance of such an event. The conference will return next year for the second Annual Crossover Applications Symposium May 14, 2011. For more information, contact Semwal, 255-3545 or Semwal@eas.uccs.edu.