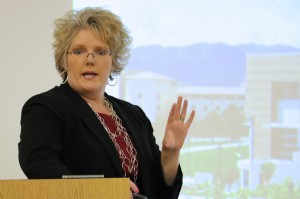 Provost Mary Coussons-Read opened the first Chancellor's Forum for the fall semester by announcing a reorganization of duties among key staff members within the academic affairs functions of her office.
Coussons-Read, who was named provost in December and who began at UCCS in March, announced title and responsibility changes designed to "expand capacity while adding as few administrative positions as possible."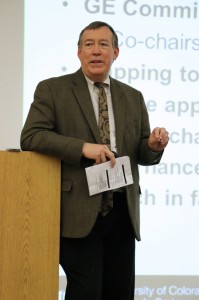 Those with new titles and responsibilities are:
David Moon, vice provost for institutional effectiveness and undergraduate education.
Kelli Klebe, associate vice chancellor for research and faculty development. She will also continue as dean of the graduate school.
Kee Warner will continue as associate vice chancellor for diversity and inclusion, but his duties may shift to fill needs within academic affairs.
Venkat Reddy, assistant vice chancellor for online education. He will continue to be dean of the College of Business.
"This is really an exciting time for academic affairs," Coussons-Read said. "Our goal, overall, is to expand our capacity to do new programming and create new student experiences — particularly experiential learning, internships, off campus experience — things that put students into new environments whether at the undergraduate or graduate level. All of those things are really critical from my standpoint. These are things that, as a team, we are committed to doing."
Coussons-Read plans to add two new staff positions to the Office of Sponsored Programs to assist faculty with grant legal compliance and with details ranging from budgeting to grant applications. She also hopes to improve communication with faculty.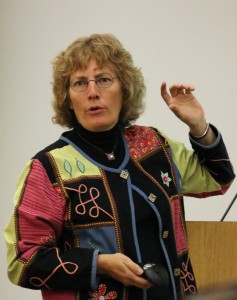 On the first Tuesday of every month beginning in October, she plans to have open sessions – Coffee with the Provost — where faculty can meet to discuss issues of importance to them or to ask questions. She also plans improvements in the Provost Office website to improve communication.
In brief presentations, Moon, Klebe and Warner touched on issues upon which they plan to focus in the coming months.
Moon said implementation of General Education curriculum is a high priority. Throughout the fall semester, faculty members will analyze courses to determine which fit the requirements adopted by faculty last year to implement the broad General Education goals approved earlier. He also touched briefly on the importance of online education in Reddy's absence. Reddy could not attend Thursday's forum because of a family emergency.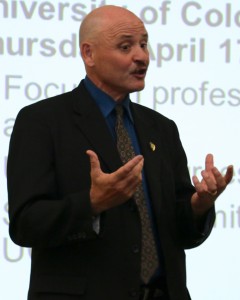 UCCS currently offers online undergraduate degree programs in nursing, allied health, business, and criminal justice. Communication and sociology will add programs this year, Moon said. Priorities for online education include expansion of offerings, improved student services, and improved marketing.
Klebe said she hopes to focus on research goals as identified in UCCS strategic planning efforts and to create an infrastructure that assists faculty.
"My first three months, what I hope to be doing is listening," Klebe said. "I'm on a listening campaign to figure out your needs for research and how I can help you and for faculty development."
Warner emphasized an April 17 diversity summit at CU Denver that will focus on professional development for faculty and staff. He also hopes to focus on assisting with recruiting and retaining diverse faculty members, working closely with new leadership within the Department of Human Resources, and improving awareness of resources available on campus.
A video of the forum completed by the Media Services Department  is available at
— Photos by Philip Denman