Memorial services are pending for Stephen L. Chambers, Flagstaff, Ariz.
Chambers directed the Office of Institutional Research, and was an assistant professor in the Department of History, from March 1997 to June 2006. He died Aug. 20 at his home. He recently retired from Coconino Community College, Flagstaff.
An obituary as prepared by family members and published in the Sept. 1 edition of the Arizona Daily Sun follows.
Stephen L. Chambers
Stephen L. Chambers, 57, the son of LeRoy and Geraldine (Fisher) Chambers, died unexpectedly at his home in Kachina Village (Flagstaff, Arizona) on August 20, 2013. A 1974 graduate of Coconino High School, Steve went on to Northern Arizona University in Flagstaff where he earned a B.S. in political science, an M.A. in applied sociology, and a Ph. D in history and political science.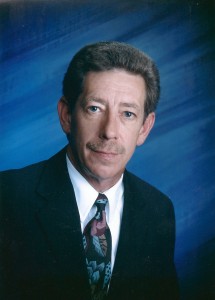 Dr. Chambers enjoyed a long and distinguished career in the field of higher education serving in executive positions in the institutional research offices at NAU, Wichita State University, University of Colorado Colorado Springs, and Coconino Community College. Steve was a dedicated promoter of college educations for underrepresented and disadvantaged populations of Americans.
Steve was passionate about U.S. history and the importance of preserving our historic buildings and landmarks. He played an instrumental role in adding Northern Arizona University's Main/Ashurst Complex, the Museum Club in Flagstaff, and Bear Down Gym on the campus of the University of Arizona, Tucson, to the National Register of Historic Places.
Steve was also a passionate and articulate fighter for the rights of the families of MIAs. He was widely respected for the intensity with which he lobbied Congress, the Joint POW/MIA Accounting Command (JPAC) and the Defense Prisoner of War/Missing Personnel office (DPMO) to recover the remains of his Uncle, First Officer and Co-Pilot, Sheldon Chambers, and the rest of the B-24 Hot as Hell crew who lost their lives along the Aluminum Trail during WW II.
Family and friends will remember Steve as a man with a quick wit and a dry sense of humor who lived life on his own terms. He loved photography, gardening, cross-country skiing, the outdoors, and spending time alone and with friends hiking the forests of his beloved native Northern Arizona.
Steve is survived by his sister Irene (Stephen) Brodie, Long Beach, California; his sister, Linda Chambers, Flagstaff, Arizona; niece, Erin Brodie (Dan Riha), Poulsbo, Washington; and step daughter, Allysun Bryden, Aspen, Colorado. He was preceded in death by his parents and by his nephew, Kevin Brodie.
A Celebration of Steve's Life will be held in late September, the exact date, time, and location to be published at a later date. In lieu of flowers, donations may be made in Steve's name to MIA Recoveries, www.MIArecoveries.org or to the Habitat for Humanity of Northern Arizona, www.flagstaffhabitat.org
Memories and condolences can be shared with his family directly or online at www.norvelowensmortuary.com.
Arrangements are under the direction of Norvel Owens Mortuary.