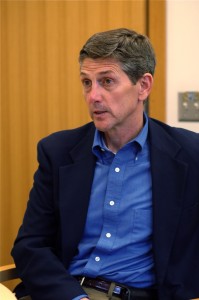 Homer Wesley was disappointed the near-to-campus choice for lunch didn't have sweet tea on the menu.
That sadness quickly turned to a smile when he learned his second choice, and another Southern favorite, Mountain Dew, was available.
"My ideal lunch is a vegetable sandwich with chips and sweet tea if I can find it," UCCS newest vice chancellor said. "I like to balance the good and the bad."
Balance describes the veteran student affairs administrator hired in February and who began at UCCS June 1, a month earlier than expected. After 30 years at institutions ranging from the co-ed Mississippi University for Women, the University of Southern Mississippi and Auburn University, he's seen  a variety of student issues and developed both a quiet confidence and a hands-on, cooperative working style.
"There is certainly a lot for me to learn about UCCS and I'm appreciative of the opportunity to do so," Wesley says over the lunch time din. "I am blessed to work with an extremely talented staff – that much I can already tell. But I'm anxious to get to it and to be a part of engaging with the university's staff and students. I want to be part of the solution."
Wesley answered several questions about himself.
Q — We met you as Bucky but your given name is Homer. Do you have a preference?
A — My full given name is Homer Ashcraft Wesley III and, to be honest, there's not a good name in all of that. Bucky, as a nickname, simply requires too much explanation. It was given to me by my cousins, Bimbo and Butch, a long, long time ago. This just seemed like a good time to make a change. I'll introduce myself as Homer but it's certainly OK if people want to call me Bucky.
Q — You started work a month early. Why?
A — Really, things just worked out that way. We'd planned on July 1 to allow for transition but I was able to wrap things up at MUW and the first person to look at my house wanted to buy it. We had my daughter's wedding at our home May 15, the movers arrived May 17, we closed on the sale of that house May 18, closed on the purchase of a house in Colorado Springs May 20 and I finished my last day of work on May 21. Everything worked out so that I could start June 1. I am appreciative of Provost Bacon's support and allowing me to get a head start on the fall semester.
Q — What are you reading?
A — I am a huge fan of biographies. I find them a great way to study leadership. I'm currently reading "FDR" by Jean Edward Smith. Next will be "Rocket Men" by Craig Nelson.
Q — Do you have a first impression of Colorado Springs?
A — It is a welcoming community and a welcoming campus. I've found people to be very open here. It is exciting to be on campus where there are lots of construction crews and forward movement.
Q — Do you have a philosophy on life that guides you?
A — My father – who was a high school football coach and principal – taught me "Don't not do something because you're scared."