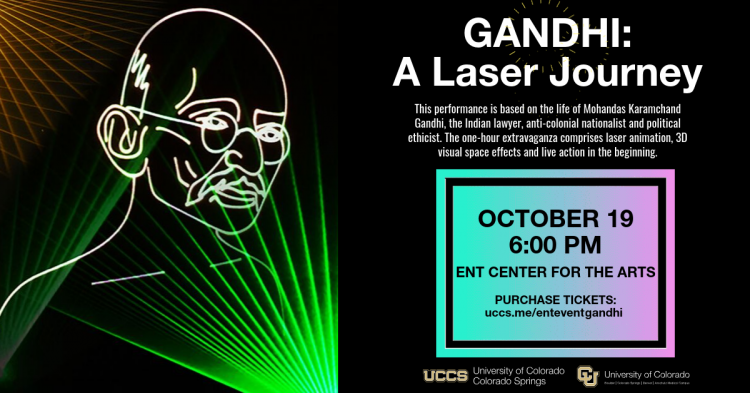 UCCS and the Colorado Springs community are invited to celebrate the 150th anniversary of Mahatma Gandhi's birth with a laser light show extravaganza on Oct. 19. 
Gandhi: A Laser Journey is a one-hour showcase of Gandhi's life and work, from Indian lawyer to political advocate who used nonviolence to successfully liberate India from British rule. Gandhi's legacy inspired civil rights movements across the world, including the American civil rights movement led by Martin Luther King, Jr. He is credited as being the "spiritual grandfather" of the 14th Dalai Lama, Martin Luther King, Jr., Desmond Tutu and Nelson Mandela.
The laser show uses multiple color lasers, smoke and hazer machines, intelligent lighting, massive rear projection laser screens and a sophisticated surround sound system that can be performed both outside and indoors. The show illustrates Gandhi's life by weaving colorful onscreen laser art and animation with 3D visual atmospheric effects, all using cutting-edge laser technology. A creation of award-winning laserist Manick Sorcar, it is designed to be educational and entertaining, suitable for all ages. 
All proceeds will fund the UCCS Arts Experiences Scholarship, which awards travel money for UCCS students to complete creative projects, research, workshops and internships. 
Gandhi: A Laser Journey will take place at 6 p.m. on Oct. 19 at the Ent Center for the Arts. Patrons can take advantage of a buy one, get one free promotion online through the UCCS Presents Box Office.