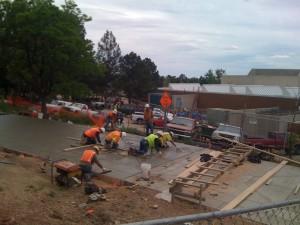 A paved walkway stretching from Main to Columbine halls is nearly complete, according to Carolyn Fox, architect, Facilities Services.
The eastern edge of a three-phase project, an area in front of Dwire Hall, should open to pedestrians June 19. Previous phases included Columbine Hall to the plaza near El Pomar Center and from University Center to the Gallogly Events Center. The concrete features a unique pattern that is both decorative and functional.
"We're piecing it together one section at a time," Fox said. "We're trying to minimize inconvenience to the campus community."
Contractors poured the last section of eight-inch-thick concrete June 7. Barring complications, the section will open for pedestrians June 19. The concrete will cure for 30 days before the walkway is closed so sealer can be applied. By mid-July, the curing and sealing process should be complete and the walkway open.
Though designed as a walkway that Fox calls a pedestrian spine, the 17,400 square feet of concrete used in the project will support emergency vehicles including 80,000 pound fire trucks. To keep unauthorized vehicles off the walkway, collapsible metal posts called bollards are planned.
Plans also call for decorative banners to highlight university accomplishments, build campus pride, and add color to be installed later this summer.
Photo by Tom Hutton