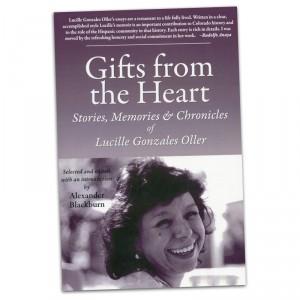 A new book published by the university, "Gifts from the Heart – Stories, Memories, and Chronicles of Lucille Gonzales Oller," provides a peek into the history of Colorado Springs and challenges faced by women and minorities.
Alex Blackburn, professor emeritus, English, in cooperation with the CU Foundation and the Colorado Springs Gazette, produced the book, drawing from unpublished Gonzales Oller works as well as more than 700 columns she wrote for The Gazette between 1995 and 2002.
The book is available at the UCCS Bookstore and The Gazette offices, 30 S. Prospect for $20. Proceeds will benefit the Lou Gonzales Scholarship which is awarded to women more than 25 years old who plan to pursue degrees in journalism-related fields, according to Jaime McMullen-Garcia, associate director of development, CU Foundation. McMullen-Garcia served as the book's project manager and said more than 40 copies have been sold.
"This is an amazing book," McMullen-Garcia said. "My mom and I have both read it and found it fascinating. It provides insight into a remarkable woman and the struggles for equality faced by many in our community."
Gonzales Oller was raised in Colorado Springs, attended Helen Hunt Elementary and Palmer High School. In her columns, she wrote about personal experiences when the city was "about six square miles," that included roasting chiles and choosing her favorite Mousekeeter's name for her confirmation name in the Catholic Church. Her columns were personal, insightful and introspective and often advocated for neighborhoods and for causes such as the restoration of Lowell School south of downtown.
At age 40, Gonzales Oller began her college career at UCCS with great trepidation. By that time, she had experienced life from a variety of perspectives including military spouse, civil service employee and parent. Those experiences, with the help of a mentor like Alex Blackburn, soon came to life in her writing.
"She showed up in my creative writing class in 1989," recalled Alex Blackburn. "She was incredibly gifted. The very first story she submitted, I suggested she send it to the Colorado Springs Gazette for a story competition. Not surprisingly, she won it."
Moving from UCCS to the Gazette, first as a newsroom clerk and later in the coveted position of columnist, Gonzales Oller became one of the city's best-read and most-loved voices as she wrote about the city's neighborhoods, its underreported issues, and its underdogs.
"In the local scene, she became the conscience to a whole city," Blackburn said.
In 2003, at age 56, her life was ended by amyotrophic lateral sclerosis, often called Lou Gehrig's disease. In her honor, family members and friends established the scholarship that bears her name to provide opportunity for other women to pursue passions for writing and journalism.
– Jeremy Simon, CU Foundation, and Tom Hutton, University Advancement