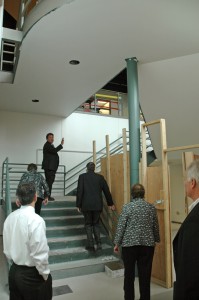 To accompany a $17 million top-to-bottom renovation, the old Science Building will soon have a new name.
Pending formal approval by the CU Board of Regents at its June 24 meeting, the renovated Science Building will be called Centennial Hall, according to Brian Burnett, vice chancellor, Administration and Finance.
"The building previously known as the Science Building will have a new name," Burnett said at a recent meeting of the University Budget Advisory Committee.
Centennial Hall was selected by the members of the Chancellor's Leadership Team after input from campus governance groups to reduce confusion by students and other campus visitors, including emergency first responders, greeted by a cadre of similar sounding campus building names – Science, Science & Engineering, and Engineering. The change will be effective following the Regents' vote but is not expected to be permanent as the university seeks donors whose contributions warrant naming the building in their honor.
The name change is a final detail as construction crews complete a 15-month renovation funded by Certificates of Participation with the debt service covered by Federal Mineral Lease monies paid to the State of Colorado. The departments of chemistry, anthropology and geography, as well as the Science Learning Center, will begin move-ins in mid-June while final details are completed.
"I think people are going to be very surprised at what they see," Gary Reynolds, executive director, Facilities Services said before highlighting changes in one of the building's most visible spaces, its large first floor auditorium.
The auditorium – known previously for its worn-out peace-and-love era orange chairs– will receive new seating as well as ceiling and wall treatments to improve acoustics that Reynolds believes will make it a faculty and student favorite. Other functional changes include improved laboratories that boast high ceilings and natural light, faculty offices adjacent to research lab spaces, and improved chemical storage.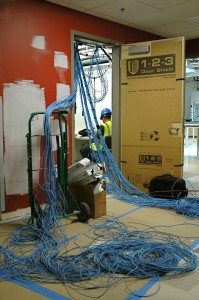 And while the auditorium and many other changes will be obvious, Reynolds is quick to point out more subtle changes that are part of efforts to earn a Leadership in Energy and Environmental Design gold certification. Those changes include high-efficiency heating, air conditioning, and lighting systems, opening windows, skylights, low-flow plumbing fixtures, copious amounts of insulation, and a new roof.
"This is a package that is highly functional, aesthetically appealing, and efficient," Reynolds said. "We are tracking for LEED gold certification."
So, when will those who aren't moving in get to see the finished product? Rededication ceremonies are scheduled for 9 a.m. Aug. 19.
Photography by Jeff Foster