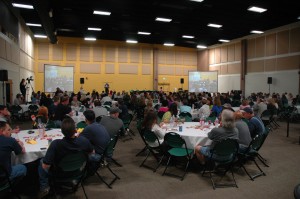 It wasn't really Corporal Klinger from MASH in pink and yellow finery but the outfit was close enough to earn Brad Bailey, accountant, Resource Management, the Best Individual Costume prize at this year's Staff Council Spring Luncheon.
More than 100 classified, professional exempt and CU Foundation staff filled the UCCS University Center Ballroom May 26 for a TV-themed celebration that featuried costumes, contests, door prizes and staff awards.
Led by Provost Peg Bacon, those who attended observed a moment of silence in memory of longtime UCCS dean of students Ron Wisner who died in a May 21 bicycle accident.
Martin Wood, vice chancellor, University Advancement, served as master of ceremonies, announcing names of award recipients and calling out the winning numbers for door prizes.
Wood presented recognition awards to officers of Staff Council and the Professional Exempt Staff Association as well as longevity awards to staff in recognition of continuous, permanent service to the UCCS campus. Steve Linhart, executive director, Student Support and Judicial Affairs, conducted TV trivia contests with panels of audience volunteers.
30 years
Steve Ellis, interim associate vice chancellor, Student Success and Enrollment Management
25 years
Connie Pitman, lab coordinator, Chemistry
20 years
Susan Mitchell, director, Student Success Center
Carel Nolan, manager, UCCS Bookstore Support Services
Gayanne Scott, executive director, Resource Management
Andrea Williams, program assistant, Psychology
15 years
Sharon Coddington, sales manager, UCCS Bookstore Book Division
Sandra Harness, counselor, Financial Aid/Student Employment
Linda Hobbs, program assistant, Information Technology
Debbie Lapioli, executive assistant, Office of the Vice Chancellor for Administration and Finance
Drew Martorella, producing director, THEATREWORKS
10 years
Anthony Cordova, director, MOSAIC
Craig Decker, IT professional, Web Services
David DuBois, program assistant, Psychology
Christopher Duval, director, Degree Audit
Nancy Gadachy, program assistant, Student Health Center
Cynthia Hudgins, custodian, Facilities Services Physical Plant
Ruth Jackson, program assistant, Biology
Amy Sutz, loan coordinator, Financial Aid/Student Employment
Betty Tatum, police officer, Public Safety
Gene Voss, police communications technician, Public Safety
5 years
Bill Bannister, academic advisor, Student Success Center
Marcus Davis, HVAC/plumbing supervisor, Facilities Services Physical Plant
Robert King, academic advisor, Student Success Center
Debora MacDonald, program assistant, Communication
Emanuelita Martinez, program assistant, Mathematics
Keith Valentine, structural trades, Facilities Services Physical Plant
Laura Baur, program assistant, Electrical and Computer Engineering
Meghan Diderrich, associate regional director, Troops to Teachers
Stephen Kirkham, athletics director, Intercollegiate Athletics
Shari Maes, custodian, Facilities Services Physical Plant
Elizabeth Ross, costume shop manager, THEATREWORKS
Brent Wallace, lab coordinator, Biology
Juliet Brewster, controller, Resource Management Division
Jacqueline Hatfield, financial assistant, College of Letters, Arts and Sciences
Sandra Loux, program assistant, College of Business
Robyn Marschke, director, Institutional Research
Kimberly Sanders, counselor, Financial Aid/Student Employment
Best Individual Costume Award
Brad Bailey, accountant, Resource Management
Best Department Costume Award
Student Life and Leadership
Minute to Win it Award